97%
of customers
recommend us
Virginia Moving Companies: Your Trusted Relocation Specialist
Three Movers provides moving services in the Commonwealth of Virginia. We assist residential and commercial movers with local and long distance relocation needs.
Contact us for any of the following:
Full-service movers
Corporate moving
Military moving
Long distance Virginia moving companies
When you plan a long distance move to or from Virginia, it's helpful to know that interstate moves are under the jurisdiction of the Federal Motor Carrier Safety Administration, commonly referred to as FMCSA. The agency works to improve highway safety and to protect consumers from fraudulent moving company practices.
If you limit your search to movers that register with FMCSA, you have some assurance that the company you choose is aboveboard and honest. You can check that the mover is up to date with their compliance by looking for their name on FMCSA's SAFER search tool. Also, review the mover's safety record and customer complaint history.
The FMCSA site also offers you some informative resources about moving and what to look for in the mover's estimate, tariff, agreement, and other relevant documents. One crucial suggestion is to always get a written estimate and contract from the chosen vendor. These precautions will help you in case any conflict over price or service level comes up.
Local Virginia movers
Local movers in Virginia must get a certificate or a permit from the Virginia Department of Motor Vehicles (which depends on whether they work just on very short distance moves or longer moves but intrastate only). The movers are required to maintain satisfactory insurance levels, but you should not assume that they do. Ask for documentation of the insurance coverage and their business license when you are interviewing movers for your local move.
It's a great idea to get a written estimate for your local move within Virginia, just as you would for a cross country move. Ask the mover to conduct an onsite survey of the goods you are shipping. This step will result in a more accurate bid and allow you to meet the reputable moving company in person and ask questions.
How much does it cost to move in Virginia?
Local moves are generally less costly than long distance projects, but every move price is determined chiefly by the size of the shipment and the distance it is being transported. The local vendor will usually offer a price quote based on an hourly charge, while the interstate estimate for your local moving services is based on the weight and distance. It's a good idea to obtain bids from several movers and compare them.
Types of Moves Offered in Virginia
Residential Virginia Movers
Whether you are looking to move around the corner, across state lines, or even to another country, all of these moves would be classified as a residential move. Anything that involves changing homes falls under the residential move category. While many moves share this category, they all have different considerations when it comes to pricing. Some worry more about distance, others about weight, and some about time.
Regardless of which type of residential move you need, Three Movers can do them all. Local, Long-Distance, and International moves fall under the list of services we offer. Just give us a call and we can discuss the terms of your move.
Office/Commercial Virginia Movers
If, however, your move doesn't involve changing homes but changing workplaces, then it would be considered an office or commercial move instead. These type of moves are those that involve changing the location of an office, business, or warehouse. While you might think they are not very different from a residential move, that couldn't be further away from the truth. Commercial moves often involve moving sensitive equipment, furniture that requires dissembling, and in general need much more discretion.
If you are looking for a team of movers that has experience with commercial moves, Three Movers has what you need.
Military Movers in Virginia
If you decided to opt for a personally procured move instead of a government procured one, you'll want to know what you are getting yourself into to make sure you can make the most out of it. Personally procured moves can be very beneficial, to the point of turning a profit, if you properly manage your documentation and do your research on mover rates against the reimbursement that you would receive from your procurement office.
To ensure you follow all the steps necessary, and receive the right documentation, work with a mover that has performed military moves before Like Three Movers full service moving company. We know everything about these types of moves.
International Movers in Virginia
If you are interested in moving to another country, you'll need to consider all the variables involved. The documents required, certificates for certain forbidden or restricted items, tax and customs for the country you will be shipping to, the method of transportation you'll choose, among others.
Luckily for you, our logistic experts at Three Movers have years of experience managing international transfers. They will help you figure out all the steps involved into an international shipping project. This way you won't have to worry about researching every single aspect involved in this.
Flat-Rate and Hourly Movers
There's two ways that a moves are charged, traditionally. Either as a single rate called a flat-rate, or based on the time it takes to complete the move in terms of hours. Each of these has their own pros and cons.
Flat-rate moves are excellent for those that are moving far away or have moves that will take a lot of time. Usually these are priced based on the number of belongings you will move, which requires an inspection in order for a free quote to be given to you.
Hourly moves, on the other hand, are better when your move will only take a short amount of time, or doesn't require moving a far distance.
Additional Moving/Shipping Services in Virginia
Packing and Crating
If you find yourself without enough time to pack, or realize that you don't have enough boxes and supplies to pack all your belongings, don't worry. We got a simple solution for you. Just request our complete packing and crating service.
We'll take care of the entire packing process, as well as bring all the necessary supplies to complete it. That will leave you more time to focus on the more administrative portions of the move.
Insurance
Moves are often complicated and messy. One of the reasons why we recommend our packing services it ensure your stuff is packaged by professional that knows how to make sure it doesn't move around or break in the truck.
A way to protect yourself from those unwanted eventualities, is to request our full insurance coverage. Yes, moves already come with a basic form of insurance as mandated by law. But coverage for the basic insurance is limited. If you have expensive belongings that are fragile, it's probably best to get complete insurance coverage.
Full-Service Moves
If you'd rather not deal with all the hassle involved in a move, or at least reduce it to the minimum amount possible, then what you need is a full-service move. These types of moves offer every moving service possible rolled into one convenient package. That means insurance, storage services, packing and unpacking, loading and unloading, and even furniture assembling and reassembling. When we say full service, we mean it.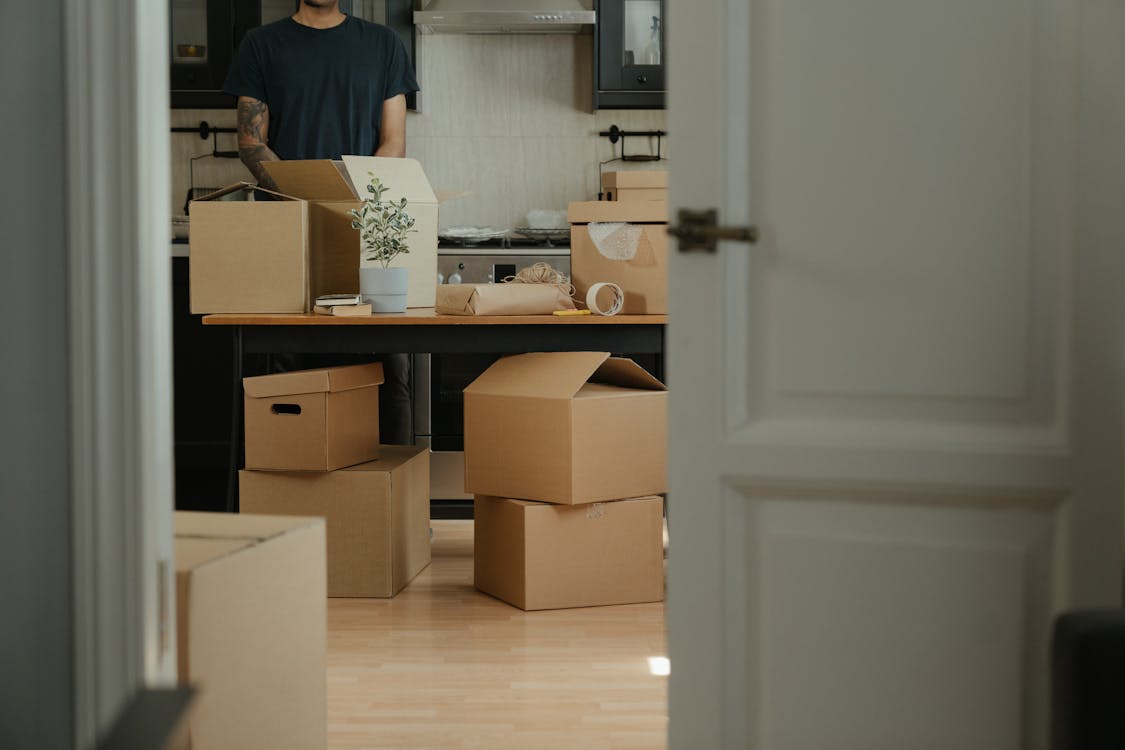 Storage
Sometimes during a move, you need a place where you can leave your belongings temporarily. There can be many reasons for this. Maybe you won't arrive at your new place for a few days, or you just need more time to get everything organized before you can finish the move.
For these cases, storing your belongings with your move is an excellent choice. Many long and local moving companies, Three Movers included, have their own storage facilities that you can use for short-term storage purposes. And in the case that you need to store your belongings for a longer time, we can connect you with one of our storage warehouse partners accredited with the Better Business Bureau for this purpose.
Same-Day moves
A good move is one that is carefully planned weeks in advance. However, sometimes we don't have that luxury. Life happens, and if you find yourself in need of an emergency professional Northern Virginia movers you don't need to panic. Three Movers offers same-day moving services. If you find yourself needing such a move, contact us as soon as you can so we can start the process as soon as possible. The longer you wait, the more likely that our professional movers will be occupied with another move. One thing we have to mention is that some local and long distance moving services might not be possible during same-day moves.
Auto Transport
One of the things that can make a move complicated is how to handle your car, or cars. If you only have one car, you could drive to your new home. However, this could be a long drive depending on where you are going. If you have multiple cars, driving all of them there could easily become a nightmare. Instead of going through all that, we recommend simply making use of our car shipping services.
Cost & Time Examples For Moving To Or From Virginia
| To / From Virginia | Distance | 2 BR | 3 BR | 4 BR |
| --- | --- | --- | --- | --- |
| Virginia, VA to Boston, MA | 474 | $853,2 – $1090,2 | $1232,4 – $1516,8 | $1611,6 – $1896 |
| Portland, OR to Virginia, VA | 2370 | $4266 – $5451 | $6162 – $7584 | $8058 – $9480 |
| Virginia, VA to Austin, TX | 1264 | $2275,2 – $2907,2 | $3286,4 – $4044,8 | $4297,6 – $5056 |
| Virginia, VA to Denver, CO | 1488 | $2678,4 – $3422,4 | $3868,8 – $4761,6 | $5059,2 – $5952 |
| Nashville, TN to Virginia, VA | 524 | $943,2 – $1205,2 | $1362,4 – $1676,8 | $1781,6 – $2096 |
| Fresno, CA to Virginia, VA | 2312 | $4161,6 – $5317,6 | $6011,2 – $7398,4 | $7860,8 – $9248 |
| Virginia, VA to Detroit, MI | 444 | $799,2 – $1021,2 | $1154,4 – $1420,8 | $1509,6 – $1776 |
| Oklahoma City, OK to Virginia, VA | 1121 | $2017,8 – $2578,3 | $2914,6 – $3587,2 | $3811,4 – $4484 |
| Virginia, VA to Yonkers, NY | 301 | $541,8 – $692,3 | $782,6 – $963,2 | $1023,4 – $1204 |
| Louisville, KY to Virginia, VA | 455 | $819 – $1046,5 | $1183 – $1456 | $1547 – $1820 |
*Prices and times are estimated. They can vary depending on the season and other factors. Get a quote
Are You Ready To Work With Three Movers?
Fill our simple form and get your free quote in a matter of minutes. custom tailored to you.
Resources
Popular Routes
Do Virginia moving companies offer services for long-distance or interstate moves?
Yes, many Virginia moving companies offer services for long-distance or interstate moves.
Should I hire Virginia commercial moving companies, or will any moving company work?
When relocating a business or office space, it's often beneficial to hire moving companies that specialize in commercial moves. Here's why:
Equipment & Experience: Commercial moving companies are equipped with the necessary tools and have experience handling office equipment, from heavy machinery to delicate electronics.

Minimal Downtime: They understand the importance of minimizing business disruptions and can often execute moves more efficiently, ensuring quicker setup at the new location.

Specialized Packing: Commercial movers have the expertise to pack and transport sensitive items, such as IT equipment, without damage.

Insurance & Liability: These companies are typically insured specifically for commercial items, which may differ from residential items in value and fragility.

Coordination: Commercial movers often provide a coordinator or project manager to ensure the move is organized and meets business timelines.
While any reputable moving company may be capable of handling a commercial move, specialized commercial moving companies offer expertise tailored to business relocations. If your move involves complex or valuable office equipment, or if you want to minimize business disruption, it's recommended to go with a Virginia commercial moving company.
Frequently Asked Questions About Moving Companies