97%
of customers
recommend us
Local & Long Distance Residential Movers Near Me
Published on 2020-11-25
Whether you're relocating to the other side of the country or simply down the street, moving can undoubtedly be a rather stressful time. In addition to making decisions on the most important aspects like where you're going to settle down, you also need to pack up your entire home and transport your possessions to your new space. Not only isn't mentally demanding to sort through all of your belongings, it is also physically taxing to box everything up and load heavy appliances and furniture onto a moving truck. Even if you're moving a short distance, your best bet is to enlist the help of some professional residential movers.
How to Find Residential Movers Near Me?
If you're planning a move this year, you are among the 10% of all Americans who move each year. Even if you're moving locally, you likely have a lot on your plate. Whether you're relocating for a promotion, or to simply enhance your and your family's quality of life, you may find that moving may be too much to handle alone. Especially if you have a lot to manage in your everyday life.
In fact, even short-distance residential moves can very quickly spiral into chaos if they're not planned or executed properly. Fortunately, there are a number of reputable local residential moving companies in your area to help your moving mess be a seamless transition. The following are some tips to help if you find yourself asking, "what are the best residential movers near me?"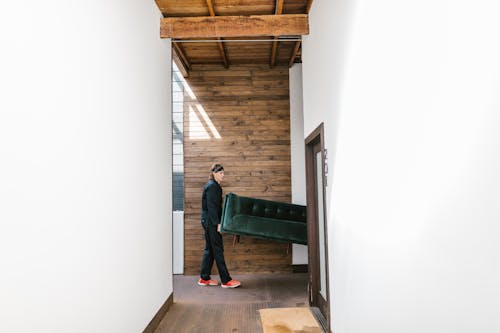 Start Your Household Move With Three Movers
The experienced movers at Three Movers can handle both long-distance moves and local moves. We are aware of all local licensing and insurance regulations to ensure that your residential move is stress-free and virtually effortless. Our company began by moving homes locally and although much has changed over the past 20 years, our goal to exceed customer expectations by crafting fully customized moving plans that meet their needs has never faltered. Our exceptional services at competitive prices, paired with our team of dedicated and experienced professionals have made us one of the best residential long-distance movers in the industry.
We offer a wide variety of local and interstate moving services including those for single-family homes, condos, dorms, apartments, retirement communities, and many more! Our professional long-distance mover is highly trained to handle and protect both your belongings and your home. All pieces of furniture are stretch wrapped and padded free of charge, ensuring that your items and home are damage-free throughout the entire moving process. If you're stressed about packing, we also provide full-service packing and unpacking services to fit your needs.
Why Hire Professional Local Residential Movers?
Short-distance residential moving companies specialize in local household and apartment relocations within the same metropolitan area. Often referred to as short-haul movers, these companies generally provide the basic moving materials, truck, and labor to move your home in mere hours. The following are some of the reasons why you should hire professional local movers for your residential relocation:
Less work for you. When you hire a long-distance moving company, they take care of the bulk of the work for you. This leaves you with more time and energy to focus on other aspects of your relocation. Full-service residential movers offer a wide variety of services to help make your move go as smoothly as possible. Whether you need help packing, disassembling furniture, moving heavy boxes and furniture, or need temporary storage space, Three Movers has you covered.
They are professionals. Although you may have friends and family that are happy to help you move, they aren't aware of the best way to pack your china or the most effective method for getting a couch through a narrow doorway. Professional residential movers are highly trained and experienced. They know exactly how to transport even your most fragile and awkward items with care and ease.
These movers are fast. Because of their expertise, professional residential movers expedite the whole moving process. This can be especially helpful for last-minute moves. Not only do you have extra hands, but you also have people who know what they are doing. In fact, many of these small residential moves can be completed in just a few hours.
They carry insurance. Should the unexpected occur and you drop your tv during your move, you'll have to come up with the money to replace it. However, when you partner with a professional moving company, they have insurance coverage for these types of accidents. Ask your residential movers about your coverage options and purchase additional coverage if you're concerned about your especially valuable items.
Professional movers have the necessary tools and equipment. You likely don't have a truck that will haul all of the items in your home, the correct equipment for moving large pieces of furniture, or even moving blankets and straps to secure your belongings during transport. Your local residential movers have all of the necessary tools and equipment to move your possessions safely. As an added benefit, all of these necessities are included in the price of your move. So, instead of renting a truck, dolly, and moving materials, you can save money by hiring residential movers near you.
Local Residential Moving Services
With Three Movers, you will always receive the best rates on local residential moving services that you need. Whether your home is in a downtown condo or a house in the suburbs, we provide the following residential moving services to you:
Packing & Unpacking: Packing up your entire home can take you several weeks on your own. If you're concerned about time, your movers will bring all of the packing supplies and do it all for you.
Loading & Unloading: It's very common for local customers to simply rent a moving truck to save money on moving costs. However, if you still need help loading and unloading your truck, we're here to help.
Packing Supplies: If you'd prefer to pack your home yourself, we can provide you with all the necessary packing supplies. Whether you need boxes, bubble wrap, tape, shrink wrap, or moving blankets, Three Movers has you covered.
Heavy Furniture, Appliances & Specialty Items: Our team of professional movers can also assist you with your heavy or awkward items. Some items that are typically more challenging to relocate include refrigerators, pianos, grandfather clocks, hot tubs, or pool tables. Our movers can haul these items safely, securely, and with ease.
Move Your Household Locally With Ease
When you hire a moving company, it's essential that they come prepared with everything needed to execute the job right. Our moving experts generally live in the communities where they work, meaning their knowledge of the area plays to our advantage when we move you. Whether it's a home move, apartment, townhouse, condo, apartment, or high-rise – we have the necessary experience to handle all moving situations. Our residential movers are drug-screened, background checked, and highly trained, offering you peace of mind that your items are safe and in good hands throughout the whole moving process.
If you're in search of "residential movers near me," you've come to the right place. Look no further than Three Movers for all your local residential moving needs. For more information or to receive your FREE moving estimate, contact us today!
| To / From | Distance | Studio Apartment | 1 Bedroom Home | 2 Bedroom Home |
| --- | --- | --- | --- | --- |
| Anaheim, CA to Washington D.C | 2262 Miles | $2714.4 – $3166.8 | $3053.7 – $3845.4 | $4071.6 – $4976.4 |
| Chicago, IL to Anaheim, CA | 2091 Miles | $2509.2 – $2927.4 | $2822.85 – $3554.7 | $3763.8 – $4600.2 |
| Anaheim, CA to Seattle, WA | 1161 Miles | $1393.2 – $1625.4 | $1567.35 – $1973.7 | $2089.8 – $2554.2 |
| Atlanta, GA to Bakersfield CA | 2190 Miles | $2628 – $3066 | $2956.5 – $3723 | $3942 – $4818 |
| Bakersfield CA to Detroit, MI | 2296 Miles | $2755.2 – $3214.4 | $3099.6 – $3903.2 | $4132.8 – $5051.2 |
| Jacksonville, FL to Chula Vista, CA | 2339 Miles | $2806.8 – $3274.6 | $3157.65 – $3976.3 | $4210.2 – $5145.8 |
| Chula Vista, CA to Oklahoma City, OK | 1312 Miles | $1574.4 – $1836.8 | $1771.2 – $2230.4 | $2361.6 – $2886.4 |
| Fremont, CA to Tulsa, OK | 1706 Miles | $2047.2 – $2388.4 | $2303.1 – $2900.2 | $3070.8 – $3753.2 |
| Austin, TX to Huntington Beach, CA | 1374 Miles | $1648.8 – $1923.6 | $1854.9 – $2335.8 | $2473.2 – $3022.8 |
| Atlanta, GA to Long Beach, CA | 2186 Miles | $2623.2 – $3060.4 | $2951.1 – $3716.2 | $3934.8 – $4809.2 |
| Los Angeles, CA to Durham, NC | 2518 Miles | $3021.6 – $3525.2 | $3399.3 – $4280.6 | $4532.4 – $5539.6 |
| Little Rock, AR to Oakland, CA | 1954 Miles | $2344.8 – $2735.6 | $2637.9 – $3321.8 | $3517.2 – $4298.8 |
| Tulsa, OK to Oxnard, CA | 1488 Miles | $1785.6 – $2083.2 | $2008.8 – $2529.6 | $2678.4 – $3273.6 |
| Cincinnati, OH to Sacramento, CA | 2273 Miles | $2727.6 – $3182.2 | $3068.55 – $3864.1 | $4091.4 – $5000.6 |
You Also Might Be interested In