97%
of customers
recommend us
Best Bakersfield Movers | Cheap Movers Bakersfield | Top Moving Company Bakersfield
Published on 2021-01-27
For many, moving is a taxing time, and finding the best moving companies Bakersfield is a daunting process, even if you're moving just a couple of miles from your current location.  Fortunately, with some preparation and the right professional movers Bakersfield, you can relieve much of the stress and enjoy your relocation. But, you may not always end up hiring the right affordable movers.
Best Bakersfield Movers – Three Movers
Bakersfield is a welcoming place to live. Bakersfield's economy is based on agriculture and is located at the southern end of the historic San Joaquin Valley. Kern County produces citrus, carrots, alfalfa, cotton, roses, grapes, and almonds and is one of the top five growing regions in the country. Petroleum is also important in this county. This fertile terrain produces about ten percent of America's domestic oil.
If you're preparing to transfer to Bakersfield, let Three Movers do the hefty training. We are a family-owned business and have been licensed by FMCSA. For over 20 years we have moved hundreds of thousands of movers in Bakersfield, CA. We have provided top-notch services at affordable prices and most of our customers are referrals from those people. When you pick Three Movers as your Bakersfield moving company to transport your treasured home valuables, you can rest assured that your move will be a success.
At Three Movers, we have over 20 years of experience, placing us at the top of the list among moving companies in Bakersfield, both local and long-distance. We'll tell you about the range of services that we offer. Our moving plans can be customized to fit your individual needs.
Whether you are preparing for a cross-country move or simply looking to settle into a new home across town like Kern County, you can rely on the professional Bakersfield movers at Three Movers.
If you're looking for a top-rated reliable moving company in Bakersfield, you can't go wrong with Three Movers.  We are professional movers in Bakersfield, CA, that offers reliable moving services at an affordable price in the moving industry, and we're known for our great customer service. We also have a wide range of van lines available, so we can accommodate long-distance moves of any size. And if you need help packing or loading your belongings, our experienced team is happy to lend a hand. Contact us today for a free quote!
Local Moving Companies Bakersfield
The local Bakersfield movers at Three Movers can make your moving experience seamless and stress-free. Our moving experts are professional, knowledgeable, and fully in tune with the area, including all of the local parking regulations and restrictions. When you partner with us, you can rest assured that you have a moving team that is an expert at what it does and knows how to properly, safely, and efficiently relocate your belongings. Our Bakersfield movers also provide packing services and they will handle your pool table, spa, and safe.
We serve both residential and commercial clients, regardless of the distance. Our extensive network of moving resources is a major advantage, especially for long-distance moves, but can also benefit those relocating to Bakersfield locally. Our professional Bakersfield movers are insured, licensed, and bonded, meaning you can have full confidence that we always provide exceptional service. You will be assigned an experienced moving coordinator to manage your move from start to finish, overseeing the entire process so you can dedicate your time to more important endeavors.
Our full-service local moving packages can include everything from packing and unpacking to the assembly of your furniture in your new location. Depending on your needs, we also offer full or partial packing services for your local move. Our professional movers in Bakersfield can pack up your entire home or business or just the most fragile items.  We have the materials, skill, and dedication to safely wrap and secure all of your possessions.
We take special care in ensuring that every detail of your local move is handled. Your items will be securely loaded, hauled, and delivered to your desired destination. Should any concerns or possible delays arise, our Bakersfield movers are fully aware of how to adapt accordingly.
What to Expect From Our Local Bakersfield Movers
Free Estimates:

Our Bakersfield moving services quotes are always provided free of charge and under no obligation.

 We'd be happy to begin the process of scheduling your estimate today. Simply give our office a call or fill out our convenient online form to get started.
Packing and Unpacking: Undeniably, the packing process is the most stressful component of a move. Fortunately, our packing experts have the knowledge, skills, and experience to get the job done quickly and carefully.
Local Apartment Moving Services: We make moving between apartments a breeze! There is no move too small, too large, too complex, or even too tight for our Bakersfield movers.
Local Moving for Seniors: Our dedicated professionals will thoughtfully and safely handle moving seniors into their new homes.
Local Furniture Moving: Perhaps you just need a few items moved or rearranged. If this is the case, our Bakersfield moving company offers on-site disassembly and assembly to fit your needs.
Long Distance Movers Bakersfield
In addition to local moves, we also execute long-distance moves that serve Bakersfield and the surrounding areas. As a professional long-distance moving company, we are able to pack, load, haul, and deliver your household belongings to other locations within the state of California, anywhere in the United States, or abroad.
When moving within the state, it's referred to as an Intrastate move. Whereas moving across state lines is called Interstate moving. The Intrastate, interstate, and international movers in Bakersfield at Three Movers are ready and willing to relocate you to wherever you need to go. At Three Movers, we always provide free in-home estimates to ensure that our quotes are as accurate as possible. The best way to know how much your long-distance move will cost is to schedule an estimate with us.
As you plan your long-distance move, you can relax knowing that our experts are highly-trained and meticulously background checked before they are assigned to a job. Like local moves, you will be assigned a move coordinator that will manage your entire long-distance relocation. They will be with you every step of the way, offering advice, and tips on how to save money, and keep your move on schedule. Therefore, without any delay get your free quote.

Office Movers In Bakersfield
It's certain that business would slow down during a relocation, whether it's just one office or an entire corporate facility. With your office in shambles and no access to documents, files, phones, or computers, finding reliable Bakersfield long distance movers is a top priority. Your workplace belongings can be transported quickly, efficiently, and affordably if you use a competent and experienced Bakersfield moving company.
We at Three Movers will do everything it takes to get your company back up and running as soon as possible, with as little disruption and downtime as possible so that you can go back to doing what you do best. We are the dependable Bakersfield movers you need.
Bakersfield Moving Companies With Storage Services
In some instances, you simply may not be ready to move all of your belongings into your home. Or, perhaps you're downsizing or there's some time in between when you must vacate your current home and when your new home will be ready for you. Regardless of the reason, you'll likely need a temporary storage solution. We offer both short-term and long-term storage to fit your unique needs at affordable prices.
Our facilities are conveniently located, fully secure, temperature controlled, and feature 24/7 surveillance. Your belongings will be in good hands for as long as you need to have them kept safe. Then, when you're ready, we will have your items loaded onto a truck and delivered to your desired location.
One Of The Best Moving Companies In Bakersfield CA
We understand that a DIY move can often save you the most money. However, it comes with its' own set of risks and costs. Never underestimate how stressful and time-consuming it can be to pack up your entire home, load up a moving truck with all your belongings, and unload it all at your destination. Not to mention the logistical planning that goes along with moving. Also, how can you truly be sure that your items were packed safely and that nothing will break while in transit?
Fortunately, we are among the best Bakersfield moving company that provides long-distance moving and can help you move at an affordable price. With Three Movers as your Bakersfield movers, you can rest easy knowing that every aspect of your move will be handled correctly and efficiently. Our team of moving experts always goes above and beyond to ensure that your relocation is fast, easy, and stress-free. We also guarantee that all your items will be packed up safely and you won't have to deal with any of the heavy lifting. Get a free quote, and our movers will contact you. You can ask our movers if you have any queries about Bakersfield moving services.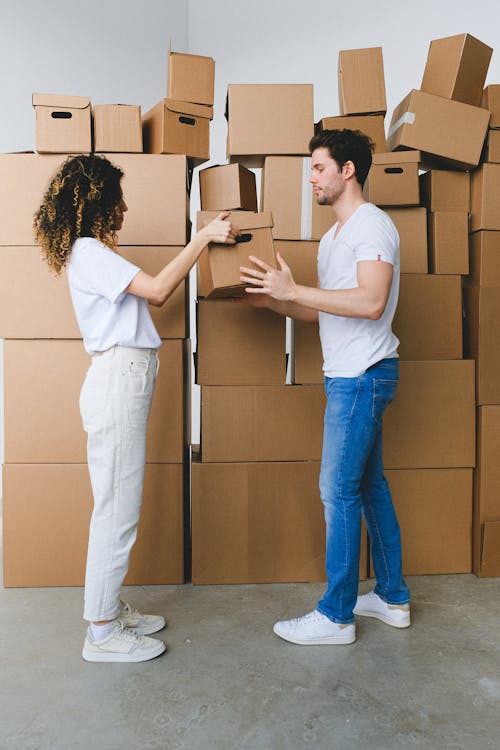 Reviews For Three Movers' Bakersfield Moving Company
Still not sure if we're the right Bakersfield movers for you? Just listen to some reviews from our most recent customers:
"My overall experience with Three Movers is what most influenced my 5-star rating. Compared to the other moves I've done over the years, this move was one of the best. I was very pleased with their services, attention to detail, and friendly staff."
"I hired Three Movers for my move from Burbank to Bakersfield. Everything went so smoothly, they even arrived earlier than I originally was told they would. The whole experience was perfect."
"The overall customer service I received was excellent. The packing and the unloading were great. I have moved around quite a bit with my job, and movers in Bakersfield always throw things around. This crew was careful, handled everything, and all my stuff arrived safely and unharmed."
Benefits of Hiring Bakersfield Movers?
Safe Moves: Bakersfield moving company offers a quick and stress-free moving experience since they know and can handle different relocations.
Time-Saving: You can save a lot of time by hiring Bakersfield movers because you won't have to think about loading, unloading, or packing your stuff.
Damage Prevention: To avoid damage to your stuff during a move, movers use the best packing materials and take extra precautions.
Convenience: Hiring movers eliminates the need to rent a truck, hire help, and purchase packing supplies.
Safety: To move large and heavy stuff properly, movers need the correct tools, knowledge, and training. This reduces the risk of damage or destruction of your stuff.
Cost-Effective: Hiring movers can be cheaper than attempting to relocate everything yourself.
Stress-Free: Hiring movers allow you to focus on other parts of your relocation while having peace of mind that your stuff is in good hands.
Bakersfield, CA Includes The Following Zip Codes:
93301, 93302, 93303, 93304, 93305, 93306, 93307, 93308, 93309, 93311, 93312, 93313, 93314, 93380, 93383, 93384, 93385, 93386, 93387, 93388, 93389, 93390
The cost of storage in Bakersfield can vary widely depending on factors such as the type of storage facility, the size of the storage unit, the location, and the specific amenities offered. Here are some general price ranges to give you an idea of what to expect:
Self-Storage Units:

Small Unit (5×5 to 5×10 feet): $30 – $100 per month
Medium Unit (10×10 to 10×15 feet): $70 – $150 per month
Large Unit (10×20 feet and larger): $100 – $250+ per month

Climate-Controlled Units:

Climate-controlled units, which maintain a consistent temperature and humidity level, tend to be more expensive than standard units.
Expect to pay approximately 20-50% more for climate-controlled storage.

Vehicle Storage:

Outdoor parking for vehicles (cars, boats, RVs): Prices vary widely based on the size and type of vehicle. It can range from $40 to $200+ per month.

Full-Service Storage:

Full-service storage companies come to your location, pick up your items, and store them for you. This convenience often comes at a higher cost.
Prices can vary significantly based on the company and the services provided.

Month-to-Month vs. Long-Term Contracts:

Some facilities offer discounts for longer rental commitments, while others offer flexible month-to-month rentals at a slightly higher monthly rate.

Location:

Storage facilities in more central or convenient locations may cost more than those in less accessible areas.

Amenities and Features:

Storage facilities with added amenities such as 24/7 access, security measures, and on-site management may have higher rates.

Demand and Availability:

Prices may be influenced by the demand for storage units in your area. During peak moving seasons, prices might be higher.
It's important to note that these are rough estimates and that prices can vary widely based on the specific storage facility and its offerings. To get an accurate idea of the cost of storage in Bakersfield, it's recommended to contact several storage facilities in the area and request quotes based on your specific storage needs. Additionally, consider visiting the facilities in person to assess their cleanliness, security features, and suitability for your items before making a decision.
Should you pay for movers when moving to or from Bakersfield?
Yes, you should pay movers for their service.
Hiring professional movers in Bakersfield can offer several benefits that make the moving process smoother, more efficient, and less stressful. Here are some of the advantages of hiring Bakersfield movers:
Expertise and Experience: Professional movers have the experience and expertise to handle all aspects of the moving process, from packing fragile items to safely loading and transporting heavy furniture.

Efficiency: Movers are trained to work efficiently and can complete the packing, loading, and unloading process much faster than if you were to do it on your own.

Safety: Moving heavy and bulky items can lead to injuries if not done correctly. Movers have the necessary equipment and techniques to lift and transport items safely, reducing the risk of accidents.

Proper Equipment: Professional moving companies have access to specialized equipment such as dollies, ramps, and padding to protect your belongings during the move.

Reduced Stress: Moving is inherently stressful. Hiring movers allows you to delegate the most physically demanding and time-consuming tasks, reducing the stress on you and your family.

Insurance and Liability Coverage: Reputable moving companies typically offer insurance options that can cover your belongings in case of damage or loss during the move.

Packing Services: Many movers offer packing services, which can save you a significant amount of time and ensure that your belongings are properly packed to prevent damage.

Time-Saving: Professional movers can complete the move in a fraction of the time it would take for you to do it on your own, allowing you to settle into your new home more quickly.

Flexibility: Movers can accommodate your schedule and preferences, allowing you to focus on other aspects of the move.

Knowledge of Local Area: If you're new to Bakersfield, professional movers who are familiar with the area can help you navigate the best routes and avoid potential challenges.

Stress Reduction: Moving can be emotionally and physically taxing. Hiring movers lets you focus on adjusting to your new home and surroundings without the added stress of the moving process.

Organization: Professional movers have a system in place to keep track of your belongings, ensuring that everything arrives at your new home safely and is accounted for.

Customized Services: Movers can tailor their services to your needs, whether you require assistance with only certain aspects of the move or want a full-service package.

Minimized Disruptions: By allowing professionals to handle the logistics, you can minimize disruptions to your daily routine and work schedule.

Accountability: Moving companies are accountable for the safe transport of your belongings. In case of any issues, they are responsible for resolving them.
Ultimately, hiring Bakersfield movers can provide you with a smoother, safer, and less stressful moving experience, allowing you to focus on settling into your new home and community.
Tipping movers is a common practice to show appreciation for their hard work and professionalism. The amount you tip movers in Bakersfield, as well as in any other location, can vary based on factors such as the quality of service, the complexity of the move, and your personal budget. Generally, a common guideline is to tip each mover between $20 and $50 per person for a local move.
Here's a suggested tipping range:
For a standard move: $20 to $50 per mover
For an exceptional job or larger move: $50 to $100+ per mover
Keep in mind that tips are typically given in cash, and they are typically handed directly to each individual mover at the end of the job. If your move involves a larger team or is particularly complex, you might consider tipping at the higher end of the range. Conversely, for smaller moves or if you're on a tighter budget, the lower end of the range may be appropriate.
It's important to note that tipping is a personal decision, and there's no strict rule. If you're particularly pleased with the service provided by the movers or if they've gone above and beyond, you might choose to tip more generously. If you're not entirely satisfied with the service, you have the discretion to tip less.
When deciding on the tip amount, consider factors such as the professionalism of the movers, the care they took with your belongings, their efficiency, and the overall quality of the service. Ultimately, your tip should reflect your appreciation for their hard work and dedication to making your move a success.
Yes, many moving companies offer storage services as part of their offerings. These moving companies can help you with both the moving process and storage of your belongings in a storage unit. This can be particularly useful if there's a gap between your move-out and move-in dates or if you need temporary storage for any reason.
Yes, many professional moving companies in Bakersfield offer packing services as part of their offerings. Hiring movers to pack up your home can save you a significant amount of time and effort during the moving process.
The cost of moving containers can vary depending on several factors, including the size of the container, the distance of the move, the duration of container rental, the specific company you choose, and any additional services you opt for. Generally, moving containers are an alternative to traditional moving trucks, offering a convenient and flexible way to transport your belongings.
Here are some estimated price ranges to give you an idea of the average cost of moving containers:
Local Moves (Within 50 Miles):

For a local move, you might pay around $150 to $300 for a 16-foot container for a few days.

Long-Distance Moves (Interstate or Cross-Country):

The cost for long-distance moves is typically higher due to transportation fees. On average, you might expect to pay around $1,500 to $3,000 or more for a long-distance move using a 16-foot container.

Additional Costs:

Additional services like packing, loading, unloading, and storage can incur extra charges.
Delivery and pickup fees may apply, depending on the container rental company and your location.
Some companies offer insurance options to protect your belongings during transit.
It's important to note that these are rough estimates and that prices can vary widely based on the factors mentioned above. To get an accurate cost estimate for moving containers, it's recommended to contact several container rental companies and provide them with details about your specific move, including the distance, size of the container needed, and any additional services required.
When comparing costs, consider the overall value you're receiving. Moving containers offer the convenience of having the container delivered to your doorstep, the flexibility to load and unload at your own pace, and the option to store the container if needed. Additionally, read customer reviews and research the reputation of the container rental companies to ensure that you're working with a reputable and reliable provider.
Yes, many moving companies have a minimum number of hours for hiring their services. The minimum hours required by moving companies can vary depending on factors such as the company's policies, the type of move (local or long-distance), and the specific services you're requesting. However, a common minimum is typically around 2 to 4 hours.
The timing for when to call a moving company depends on several factors, including the distance of your move, the time of year, and your specific needs and preferences. Generally, it's a good idea to contact a moving company well in advance to ensure their availability and to give yourself ample time to plan and prepare for the move. Here are some guidelines for when to call a moving company:
Start Early: As a general rule of thumb, it's a good idea to start contacting moving companies at least 8 to 12 weeks before your desired move date, especially if you're moving during the busy summer months or at the end or beginning of the month.

Peak Moving Season: The summer months (May to September) are considered the peak moving season. During this time, moving companies tend to be busier, and availability may be limited. If you're moving during the summer, consider contacting moving companies even earlier, around 12 to 16 weeks in advance.

Off-Peak Season: If you're moving during the fall, winter, or early spring, you might have more flexibility in terms of booking moving services. However, it's still a good idea to reach out to moving companies 6 to 10 weeks before your move date to secure your desired dates.

Long-Distance Moves: For long-distance moves, especially cross-country moves, it's recommended to contact moving companies even earlier, around 3 to 4 months in advance. This allows for proper planning, coordination, and scheduling of logistics.

Special Requirements: If you have specific requirements such as needing packing services, storage, or the transportation of fragile or valuable items, contacting moving companies earlier can ensure they have the necessary resources available.

Flexible Dates: If you have some flexibility with your move dates, you may have more options when it comes to choosing a moving company and securing a better rate.

Last-Minute Moves: In some cases, moving companies might be able to accommodate last-minute moves, but this could limit your choices and potentially result in higher costs. It's best to avoid last-minute planning if possible.
Keep in mind that while contacting moving companies early is generally advisable, you should also consider your specific circumstances and needs. If you're in a situation where you need to move quickly, it's still worth reaching out to moving companies to inquire about their availability. The earlier you start the process, the more likely you are to secure a reliable and reputable moving company that can meet your needs.
To find Bakersfield moving companies that specialize in residential moves, you can follow these steps:
Online Search: Start by searching online using keywords like "residential moving companies Bakersfield" or "Bakersfield residential movers." This will help you find a list of local moving companies that focus on residential moves.

Local Directories: Check local business directories, both online and offline. Websites like Yellow Pages, Yelp, and Google Maps can provide a list of moving companies in Bakersfield with their contact information and customer reviews.

Ask for Recommendations: Ask friends, family members, colleagues, or neighbors who have recently moved for recommendations. Personal referrals can provide valuable insights into the quality of service provided by different moving companies.

Online Reviews: Look for online reviews and ratings for moving companies in Bakersfield. Websites like Yelp, Google Reviews, and Angie's List can give you an idea of the experiences that others have had with these companies.

Professional Associations: Check if the moving companies are members of professional associations such as the American Moving & Storage Association (AMSA) or the California Moving & Storage Association (CMSA). Membership in such associations can indicate a commitment to professionalism and quality.

Company Websites: Visit the websites of moving companies in Bakersfield to learn more about their services, experience, and specialization. Most companies will provide details about the types of moves they specialize in.

Request Quotes: Reach out to several moving companies to request quotes. This will not only give you an idea of their pricing but also allow you to ask questions about their specialization in residential moves.

Ask Questions: When contacting potential moving companies, ask specific questions about their experience with residential moves. Inquire about the types of services they offer, their familiarity with local neighborhoods, and their approach to ensuring a smooth residential move.

Licensing and Insurance: Verify that the moving companies you're considering are properly licensed and insured. This is crucial to ensure the safety of your belongings during the move.

In-Person Consultations: If possible, schedule in-person consultations with a few moving companies. This will give you a chance to discuss your needs in detail and get a better sense of their professionalism and expertise.
Remember that finding the right moving company involves not only considering their specialization but also assessing their reliability, reputation, and customer service. Take the time to research and compare multiple options to make an informed decision for your residential move in Bakersfield.
Contact Three Movers. We offer commercial moving services with additional services.
Contact Three Movers. We offer commercial office moving services with additional services.
Bakersfield moving companies often offer a range of additional services beyond just basic transportation. These services are designed to provide more comprehensive solutions to meet various moving and storage needs. Here are some additional services that Bakersfield moving companies might offer, including storage solutions:
Packing Services: Professional packing services can save you time and ensure that your belongings are properly packed for the move. Movers will bring packing materials, wrap fragile items, and label boxes for easy organization.

Storage Solutions: Moving companies may offer short-term or long-term storage options. This can be particularly useful if there's a gap between your move-out and move-in dates, or if you need temporary storage for excess belongings.

Specialty Item Handling: Movers can handle valuable, fragile, or large items such as pianos, antiques, artwork, and delicate electronics using specialized equipment and techniques.

Furniture Disassembly/Assembly: Movers can disassemble and reassemble furniture, ensuring safe transport and setup at your new location.

Packing Supplies: Some companies provide packing materials for DIY packing, such as boxes, tape, bubble wrap, and packing paper.

Unpacking Services: After the move, movers can help unpack your belongings, place them in their designated rooms, and dispose of packing materials.

Vehicle Transportation: Moving companies might offer options to transport your vehicles, such as cars or motorcycles, as part of your move.

Custom Crating: For high-value or unusually shaped items, custom wooden crates can be built to provide maximum protection during the move.

Furniture Protection: Movers use padding and protective materials to safeguard furniture and prevent damage during transit.

Transit Insurance: While most moving companies offer basic liability coverage, additional insurance options may be available for added peace of mind.

Senior Relocation: Some moving companies specialize in helping seniors transition to assisted living communities or downsizing to smaller homes.

Long-Distance Moving: Moving companies can provide services for interstate or cross-country moves, managing logistics, transportation, and coordination.

Corporate Relocations: These services are tailored for businesses relocating their employees and offices, including packing, moving, and setting up equipment.

Home Cleaning Services: Some moving companies offer post-move cleaning services to help you leave your old home in top condition.

Electronic Equipment Handling: Movers with expertise in handling sensitive electronics can ensure the safe transportation of computers, servers, and other tech equipment.
When researching moving companies, inquire about the specific additional services they offer, and discuss your unique needs to determine which services are relevant to your move. Keep in mind that while these services can enhance the moving experience, they may come with additional costs, so it's important to factor them into your moving budget.
Ensuring the safety of your belongings when using Bakersfield moving companies involves careful planning, communication, and choosing a reputable and reliable moving company. Here are several steps you can take to enhance the safety of your belongings during the moving process:
Research and Choose Reputable Movers:

Look for moving companies with positive reviews, established reputations, and proper licenses and insurance.
Check if the company is registered with the Federal Motor Carrier Safety Administration (FMCSA) for interstate moves.

Get Multiple Quotes:

Obtain quotes from multiple moving companies and compare their services and prices.
Be cautious of significantly lower quotes, as they might indicate subpar service or potential hidden fees.

In-Person Estimate:

Request an in-person estimate where a representative from the moving company assesses the scope of the move and provides an accurate quote.

Read the Contract:

Carefully review the contract, terms, and conditions provided by the moving company. Understand their policies on liability, insurance, and potential damages.

Insurance Coverage:

Inquire about the moving company's insurance coverage for damaged or lost items during the move. Consider purchasing additional insurance if needed.

Valuables and Fragile Items:

Personally transport valuable items, important documents, and irreplaceable items to ensure their safety.

Labeling and Inventory:

Label boxes clearly with their contents and destination room to help movers handle items with care.
Create an inventory list of your belongings to track their condition before and after the move.

Packing Materials:

Use quality packing materials to protect fragile items during transit. Reinforce boxes as needed.

Communicate Special Items:

Inform the moving company about any special handling requirements, delicate items, or items that require disassembly and reassembly.

Ask About Equipment:

Inquire about the type of equipment and padding the movers use to safeguard furniture and belongings during loading and unloading.

Supervise the Process:

Be present during the loading and unloading of your belongings to ensure they are handled properly.

Document Damages:

If any items are damaged during the move, document the damage with photos and notes. Report it to the moving company promptly.

Secure Valuables:

Keep valuable items like jewelry, cash, and important documents with you rather than in the moving truck.

Stay Informed:

Stay in touch with the moving company during the move and receive updates on the progress.

Feedback and Reviews:

After the move, provide feedback and reviews to help other customers and reward good service.
Taking these precautions can help you choose a trustworthy moving company and ensure the safety of your belongings throughout the moving process. Communication, preparation, and due diligence are key to a successful and secure move.
Yes, there are Bakersfield moving companies that specialize in handling specialty items like pianos. Three Movers will be able to assist you with piano moving.
Cost Examples For Moving To / From Bakersfield
| To / From Bakersfield | Distance | 2 BR | 3 BR | 4 BR |
| --- | --- | --- | --- | --- |
| Atlanta, GA to Bakersfield CA | 2190 Miles | $3942 – $5037 | $5694 – $7008 | $7446 – $8760 |
| Bakersfield CA to Detroit, MI | 2296 Miles | $4132.8 – $5280.8 | $5969.6 – $7347.2 | $7806.4 – $9184 |
| Bakersfield CA to Raleigh, NC | 2557 Miles | $4602.6 – $5881.1 | $6648.2 – $8182.4 | $8693.8 – $10228 |
| Bakersfield CA to Charlotte, NC | 2427 Miles | $4368.6 – $5582.1 | $6310.2 – $7766.4 | $8251.8 – $9708 |
| Baltimore, MD to Bakersfield CA | 2660 Miles | $4788 – $6118 | $6916 – $8512 | $9044 – $10640 |
| Indianapolis, IN to Bakersfield CA | 2082 Miles | $3747.6 – $4788.6 | $5413.2 – $6662.4 | $7078.8 – $8328 |
| Bakersfield CA to Kansas City, MO | 1633 Miles | $2939.4 – $3755.9 | $4245.8 – $5225.6 | $5552.2 – $6532 |
| Bakersfield CA to Memphis, TN | 1808 Miles | $3254.4 – $4158.4 | $4700.8 – $5785.6 | $6147.2 – $7232 |
| Charleston, SC to Bakersfield CA | 2494 Miles | $4489.2 – $5736.2 | $6484.4 – $7980.8 | $8479.6 – $9976 |
| Bakersfield CA to Colorado Springs, CO | 1097 Miles | $1974.6 – $2523.1 | $2852.2 – $3510.4 | $3729.8 – $4388 |
FAQs about Bakersfield Movers