97%
of customers
recommend us
THREE MOVERS
If you are looking for a top rated local and long distance moving company for your upcoming move, Three Movers is the right choice. We are a family owned and operated business, and we take pride in providing amazing customer service. Our professionally trained employees will take care of your belongings, and we offer partial packing options to make the move as easy as possible for you.
 We know that moving can be stressful, so we offer unpacking services and packing services to help you get settled in your new home quickly. We also have a corporate relocation manager on staff to help with any corporate moves. Contact us today for a free estimate and amazing job!
Three Movers offers moving services in Fall River, Massachusetts. Our Fall River movers assist residential and commercial customers with their local and long distance moves.
Contact us for any of the following:
full-service movers
residential moves
commercial moves
corporate moving
moving and storage unit
military moving
same day moving

Long distance Fall River, Massachusetts moving companies
Finding a long distance mover is not difficult, but you want to make sure you hire the right one. If you engage a shady moving company, you may end up with regrets. What's the best way to avoid unscrupulous companies? Three Movers offers these red flags to look out for:
A mover that doesn't want to conduct an onsite survey of your shipment and provides a "lowball" estimate over the phone might be planning something suspicious. This is especially true if the mover won't put the estimate in writing.
If the moving company insists on being paid in cash, or requires a large deposit in advance, be wary of hiring them. They might not show up on moving day or might disappear after they load all your belongings into the truck.
If the mover doesn't want to explain your insurance coverage choices, that's a bad sign. Your estimate should describe the basic and the full coverage options and the price difference.
There are plenty of reliable movers to choose from, so don't settle for one that wants to cut corners.
Local movers in Fall River, Massachusetts
When looking for a professional mover to assist with your local move in Fall River, Massachusetts, remember that local moving companies that only operate inside the Commonwealth don't have to register with the Federal Motor Carrier Safety Administration. Some will anyway because they also work on interstate moves.
But for strictly local movers, make sure you ask about their operations. Get a copy of their business license and insurance and find out how long they have been in business. Ask for references from recent customers. These things will give you the confidence you need in the mover you choose.
How much does it cost to move in Fall River, Massachusetts?
Long distance moves are costly, with an average job for the contents of a three-bedroom home priced at over $4,300. Local moves are typically much less, often under $1,000. The cost for any corporate moving services depends on the shipment size and how far the movers have to go, so ask several professional movers for estimates and then compare.
Types of Moves Offered in Fall River, Massachusetts
Residential Movers in Fall River, Massachusetts
Looking to perform a residential move or long distance move? Moving your family to a new place? Not a problem for us. Three Movers' crews are experienced in handling all types of moves. From local moves that only require transporting the goods a short distance to long-distance moves across the state or even a moving process to different states.
We have decades of experience working with these types of moves, even residential moves to different countries. The factors affecting the cost of the move will vary depending on the distance to travel. For instance, a move considered local will be more concerned with the duration of the project, while interstate moves worry more about distance.
Office/Commercial Movers in Fall River, Massachusetts
In the world of item transportation, a lot of the different types of moves are fairly similar. Not so much for commercial moves. While all the residential moves fall under an umbrella, and military moves are similar to these as well, commercial moves are more technical and require more precision.
In a commercial move, you will be relocating your own businesses or business, warehouse, or office. This means moving important and expensive equipment, documents, and other office items. These need to be handled with care, and you need to know that the mover working with you will be discreet. If the mover you are working with can't assure you that, then work with Three Movers instead.
Military Movers in Fall River, Massachusetts
If you work in the military, then you most likely will have experienced a move or two during your career. Moves are very common for members of the military, often requiring moving to entirely different states.
This is why the Department of Defense and the government try to make this process as painless as possible. How? In two ways:
The first is by taking care of the whole thing through them. They cover the expenses and process, but you won't have much of a say.
The second option is to take care of it on your own, with the government reimbursing you for some of the related expenses. If you choose this, Three Movers can help keep those expenses to the minimum.
International Movers in Fall River, Massachusetts
International moves are the most polarizing type of move out there. On one hand, it can be extremely exciting to move to a new country, with new things to try and places to see. On the other hand, the actual process of moving there can be a real hassle with the amount of red tape involved.
You need to be careful with the items you bring along, the paperwork that you submit, and many more factors. This can make navigating the whole process very complicated.
A good way to keep this simple is to just let a moving company handle things for you. Three Movers, for example, will not only explain what goes into the process but also recommend ways for you to save money or time.
Flat-Rate and Hourly Movers
If you are looking to move locally, then you will probably be charged an hourly rate. This means that the longer the move takes; the more money you'll have to pay. As such, you'll want to think about what you need to move and how to organize things in such a way that the loading process takes the least amount of time possible.
If you are moving a fair distance away from home, then you most likely will pay a single flat rate. In this case, you will be charged based on the distance and amount of items to transport.
Additional Moving/Shipping Services in Fall River, Massachusetts
Packing and Crating
Some people enjoy packing but there are plenty more that don't. It's easy to see why packing is a hassle. Sure, there are ways to make it more of an entertaining activity, but ultimately, it's a tiring a long process. That's why you rarely see it picture positively in movies.
If you are not one to enjoy packing, you might prefer to have someone else do it for you. For those cases, we offer a full packing service. We will send someone to your place to take care of the packing for you, and we will include all necessary supplies as well.
Insurance
A lot of people don't like to think about getting insurance. However, when moving your belongings, you want to protect yourself from any monetary issues as much as you can. Most household goods movers will provide you with a basic form of insurance as part of federal regulations, and be wary of those who don't, but this coverage is limited and only pays a portion of the value of your belongings.
We recommend getting full insurance coverage, especially if you are transporting expensive items that could exceed or fall out of the basic coverage.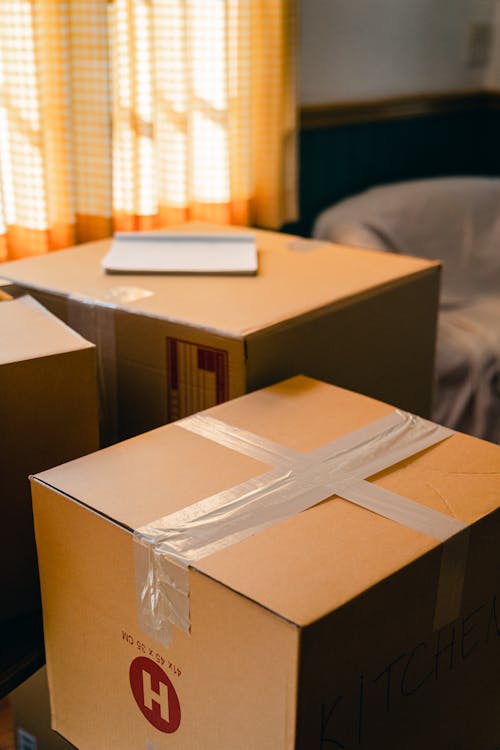 Full-Service Moves
Now, this is the real deal. Reserved for those that would much rather just sit back and enjoy the trip to their new home, or for cases where you have other errands to take care of before you can consider your move finished. A full-service move, like the name implies, includes everything you can think of.
Packing, storage, furniture assembly, you name it. While this is a pricier option than doing partial moves, you certainly won't regret it if you decide to go through with it. Satisfaction guaranteed.
Storage
Storage options are available for cases where you don't think you are ready to transport everything just yet. The way that storage through your mover works is that we take your belongings, after loading them into the truck from your home, to one of our storage facilities. In here, we store your belongings exactly as we picked them until such a time when you request them again.
Same-Day moves
Sometimes, you just need to move right away. Maybe you had an emergency, or you just didn't plan your move properly and realize the day has come. For those cases, you can make use of our same-day moving service. We will send a crew to your home within minutes of disconnecting the call. We'll get your moving going in the blink of an eye.
Auto Transport
Moving residences isn't limited to moving furniture, boxes, and clothes. You need to transport your car as well. You might have the option to drive it to your new home, but if that doesn't seem feasible we can provide you with an alternative. We can transport your car as part of our vehicle transportation services to your new home, or anywhere else you want us to take it to.
Cost & Time Examples For Moving To Or From Fall River
| To / From Fall River | Distance | 2 BR | 3 BR | 4 BR |
| --- | --- | --- | --- | --- |
| Fall River, MA to New York City, NY | 163 | $293,4 – $374,9 | $423,8 – $521,6 | $554,2 – $652 |
| Detroit, MI to Fall River, MA | 611 | $1099,8 – $1405,3 | $1588,6 – $1955,2 | $2077,4 – $2444 |
| Seattle, WA to Fall River, MA | 2501 | $4501,8 – $5752,3 | $6502,6 – $8003,2 | $8503,4 – $10004 |
| Fall River, MA to Las Vegas, NV | 2368 | $4262,4 – $5446,4 | $6156,8 – $7577,6 | $8051,2 – $9472 |
| Fall River, MA to Dallas, TX | 1532 | $2757,6 – $3523,6 | $3983,2 – $4902,4 | $5208,8 – $6128 |
| Portland, OR to Fall River, MA | 2546 | $4582,8 – $5855,8 | $6619,6 – $8147,2 | $8656,4 – $10184 |
| Fall River, MA to Baltimore, MD | 331 | $595,8 – $761,3 | $860,6 – $1059,2 | $1125,4 – $1324 |
| Atlanta, GA to Fall River, MA | 906 | $1630,8 – $2083,8 | $2355,6 – $2899,2 | $3080,4 – $3624 |
| Fall River, MA to Miami, FL | 1215 | $2187 – $2794,5 | $3159 – $3888 | $4131 – $4860 |
| Fall River, MA to Denver, CO | 1765 | $3177 – $4059,5 | $4589 – $5648 | $6001 – $7060 |
*Prices and times are estimated. They can vary depending on the season and other factors. Get a quote
| | | |
| --- | --- | --- |
| S Main St | Slade St | Stafford Rd |
| Newhall St | Robeson St | Highland Ave |
| Broadway | Middle St | Collins Corner |
| Fighting Rock Corner | N Main St | Wilson Rd |
| Washington St | Hope St | Globe Village |
| Rodman St | Brayton Ave | Flint Village |
Are You Ready To Work With Three Movers?
Fill our simple form and get your free quote in a matter of minutes. custom tailored to you.
Other Popular Cities In Massachusetts That We Serve:
Resources
Fall River, Massachusetts includes ZIP codes:
02720, 02721, 02722, 02723, 02724
Frequently Asked Questions