97%
of customers
recommend us
Three Movers is an excellent, affordable moving company in Washington State. We serve residential and commercial customers completing local and long distance moves.
Please contact us for any of the following:
full-service movers
corporate moving
military moving
Long distance Washington State moving companies
Planning a long distance move to or from Washington State is exciting but stressful too. As soon as you start to look for a mover, you are inundated by offers from moving companies and brokers, not to mention every other service provider related to home selling, supplies, storage, and improvements. If you wonder about the difference between a moving company and a moving broker and whether to use a broker, Three Movers wants to help.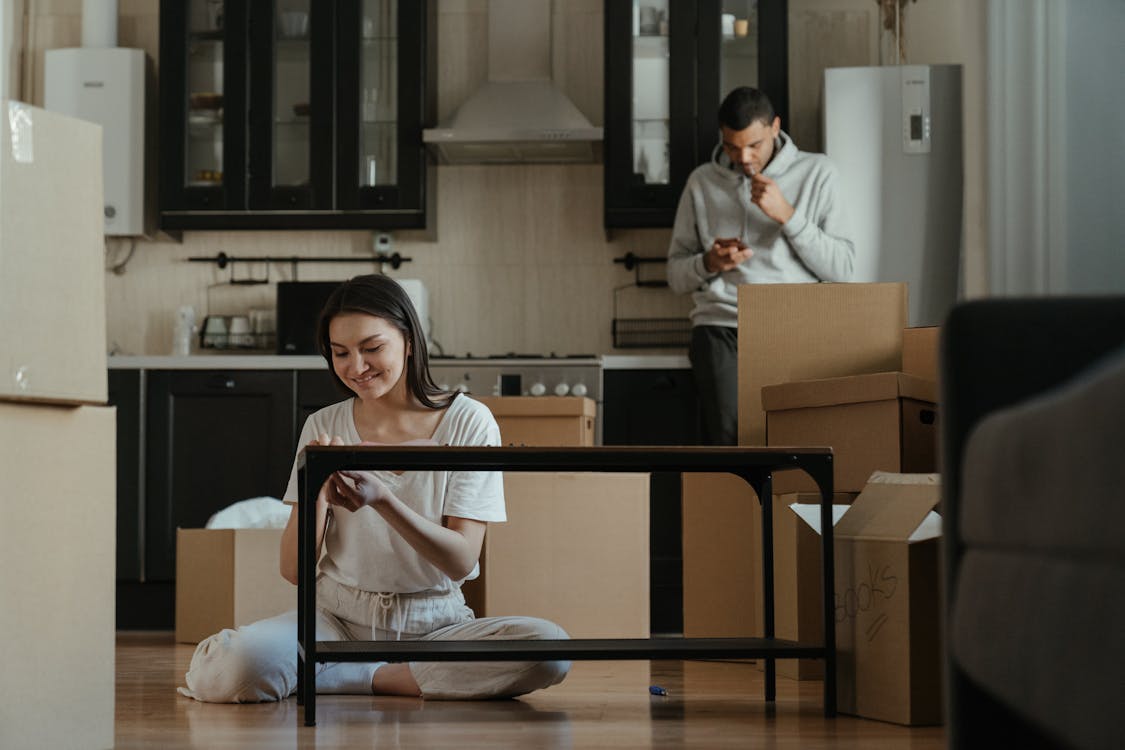 A broker does not engage in household goods move; they simply act as a go-between. The broker will talk to you to understand your needs and then try to find the right mover for the job. This can be a helpful service, but sometimes it can lead to problems. If you use a broker, make sure of the following:
The broker (like an interstate mover) must be registered with FMCSA (the Federal Motor Carrier Safety Administration).
Either the broker or the moving company must complete a visual survey of the shipment and provide a written estimate of the job's cost.
Brokers can only provide estimates on behalf of movers with which they maintain a written agreement, and they must provide you with a copy of the mover's tariff with the estimate.
Local movers in Washington State
Local movers aren't subject to the FMCSA regulations, and most local moves are short distance, but you should still be cautious when selecting a moving company. Ask the movers you evaluate to provide you with their business license and their corporate, cargo, and workers' compensation insurance coverage.
Ask the movers questions about how long they have been operating and if they have ever completed a business name change (sometimes companies change names to avoid the repercussions of a bad reputation.) Ask for references from recent customers and talk to them about their experience with the mover. Always get a written estimate based on a visual survey of the shipment.
How much does it cost to move in Washington State?
The best way to determine how much your local or long distance move will cost is to get estimates from several reputable movers and compare them. A local move is usually priced at an hourly rate, depending on how much time the mover needs to complete the job, while a bid for a long distance move will be calculated by the shipment's weight and the travel distance.
Type of Moves Offered in Washington, District of Columbia
It's important to know exactly what services you'll require when looking for movers in the moving industry to assist you with your relocation from or to Washington, DC.
Three Movers full service moving company offers a variety of moving services like packing services, junk removal and heavy lifting to ensure that their customers have a comfortable moving experience.
Residential Moving Services in Washington, District of Columbia
Let's face it: making a residential move on your own may be too much for you to handle, especially if you have a lot on your plate. Even short-distance home relocations can quickly devolve into a horrible moving experience if not properly planned and executed. Three Movers, fortunately for you, is a dependable national moving company that can aid you with your residential moves and makes them a pleasant experience for you.
We are one of the best home movers in the industry because of our high-quality services at cheap pricing, as well as our committed and knowledgeable crew. Our professional movers are trained to manage and preserve your things while also making the moving process as pleasant as possible.
Commercial Moving Services in Washington, District of Columbia
Commercial relocations account for the majority of non-residential relocations. Finding the best commercial moving services is, without a doubt, a difficult undertaking. Even though it is substantially more difficult than simply moving, the fundamentals remain the same. Everything is packed, transported, and then unpacked when you arrive at your new location.
Three Movers can provide specialized corporate moving services if you own a business or rent a commercial space or office. We may also supply you with a corporate relocation manager to assist you in planning and executing your upcoming move to Washington, DC, if necessary and you can be assured of an excellent customer service.
Military Moving Services in Washington, District of Columbia
The military will cover the cost of moving through registered and insured moving businesses, but they will also help if you hire a third-party mover. Since military personnel relocates frequently, Three Movers has chosen to specialize in military relocation to make your life easier.
We provide long-distance and international relocation services to military families relocating to or from Washington, DC. We've got you covered whether your PCS orders mandate you to relocate to or from Washington, DC.
International Moving Services in Washington, District of Columbia
When relocating to a new country, the last thing anyone wants is to begin their new life with the lingering effects of a disastrous overseas move. As a result, as part of your pre-move planning, identify the top international moving services in Washington, District of Columbia. To have a nice moving experience to another country, you must choose a renowned and capable moving company.
Also, be sure the moving firm has a license from the Federal Maritime Commission (FMC), which issues licenses to foreign transportation companies. Three Movers is the ideal moving company for you because of this.
Our 20+ years of expertise has taught us how to look after our customers and ensure that they are happy with their relocation. We're also licensed to handle international transfers, so you can count on us to make your transition to or from Washington, DC a stress free moving experience.
Flat-Rate and Hourly Moving Services in Washington, District of Columbia
The difference between an hourly price and a flat rate is determined by the distance your possessions must be relocated and the number of items at your existing residence.
The larger your property is and the more the distance your items must travel to reach their new location, the more expensive hourly movers get. If you're moving long distances, have a large property, or simply don't want your moving fees to increase, ask your moving company for a flat charge.
At Three Movers, our costs are transparent, and we provide the most cost-effective moving service to our customers. All you have to do is allow us to assess your home on-site in order for our customer service representatives to provide you with an accurate quote.
Additional Moving Services in Washington, District of Columbia
Packing and Crating
Before your move, Three Movers may assist you with packing any costly or fragile goods. Moreover, crating services are used by many of our customers who are shipping high-value items to or from Washington, DC.
Our staff is well-equipped to handle these delicate items, and we can also provide specialized moving boxes to keep your things safe and secure during the move.
Auto Transport
Three Movers will assist you with automobile transportation to or from Washington, DC. Many long-distance movers, particularly those with multiple cars, choose to have their vehicles transported with their furniture and personal items. This has a number of advantages. You won't have to drive several vehicles and won't be subjected to the wear and tear that a long-distance transfer generally entails. It also addresses a problem you would have faced during the relocation. Please do not hesitate to contact us if you require automobile transportation to your new residence.
Same-Day Services
We are one of only a few moving firms that provide same-day services. We understand how difficult it can be to find a competent and trustworthy moving company on short notice. This is why we provide same-day emergency moving services.
Despite the fact that most relocations are arranged in advance (which we strongly encourage), we have a moving team on standby to assist in the event of an emergency relocation.
Insurance
Three Movers, like all other movers, is unable to provide insurance for your move to or from Washington, D.C. on its own. However, Federal law allows us to present certain "valuation" options to our customers.
Insurance protects your possessions from damage while in transportation, whereas valuation refers to the level of responsibility a moving company bears if your belongings are lost or destroyed during a relocation. Contact your moving company for additional information about moving insurance.
Full-Service Moving
Our customers may count on Three Movers to deliver full-service moving. This process includes locating moving boxes and packing supplies, carefully packing your possessions, transporting your belongings to the new location, and unloading and reorganizing your belongings. To put it another way, hiring our full moving services enables us to organize your relocation meticulously. As a result, you may relax and focus on other things while we handle the moving logistics.
Storage
When moving, some people opt to store part of their belongings. It's mostly because they want to relocate over a great distance. They also prefer to move the majority of their belongings once they've settled into their new residence. As a result, Three Movers now offers storage to its customers, allowing you to combine moving services and handle the entire process through one firm rather than dealing with storage and moving companies differently.
Cost & Time Examples For Moving To Or From Washington
| To / From Washington | Distance | 2 BR | 3 BR | 4 BR |
| --- | --- | --- | --- | --- |
| NYC to Washington (WA) | 2174 miles | $3913,2 – $5000,2 | $5652,4 – $6956,8 | $7391,6 – $8696 |
| Houston, TX to Washington (WA) | 1703 miles | $3065,4 – $3916,9 | $4427,8 – $5449,6 | $5790,2 – $6812 |
| Chicago, IL to Washington (WA) | 1505 miles | $2709 – $3461,5 | $3913 – $4816 | $5117 – $6020 |
| El Paso, TX to Washington (WA) | 1240 miles | $2232 – $2852 | $3224 – $3968 | $4216 – $4960 |
| Los Angeles, CA to Washington (WA) | 941 miles | $1693,8 – $2164,3 | $2446,6 – $3011,2 | $3199,4 – $3764 |
| Riverside, CA to Washington (WA) | 947 miles | $1704,6 – $2178,1 | $2462,2 – $3030,4 | $3219,8 – $3788 |
| Nashville, TN to Washington (WA) | 1749 miles | $3148,2 – $4022,7 | $4547,4 – $5596,8 | $5946,6 – $6996 |
| Atlanta, GA to Washington (WA) | 1958 miles | $3524,4 – $4503,4 | $5090,8 – $6265,6 | $6657,2 – $7832 |
| Philadelphia, PA to Washington (WA) | 2145 miles | $3861 – $4933,5 | $5577 – $6864 | $7293 – $8580 |
*Prices and times are estimated. They can vary depending on the season and other factors. Get a quote custom-tailored to you.
Are You Ready To Work With Three Movers?
Fill our simple form and get your free quote in a matter of minutes. custom tailored to you.
Popular Cities In Washington That We Serve:
Resources
Popular Routes
Prices Of Movers In Washington (WA)
The table below outlines very rough price estimates based on historical moving cost information:
| | | | |
| --- | --- | --- | --- |
| | 1 bedroom | 2-3 bedrooms | 4-5 bedrooms |
| Less than 50 miles | $240 – $675 | $710 – $1,400 | $1,100 – $4,900 |
| 250 miles | $800 – $2,300 | $1,400 – $3,950 | $2,050 – $4,700 |
| 1000+ miles | $950 – $2,900 | $2,100 – $7,800 | $4,900 – $8,100 |
| 2500+ miles | $1,300 – $3,800 | $3,400 – $7,900 | $8,400+ |
Keep in mind that the actual cost of your individual move will vary. The best way to obtain the most accurate price for movers in Washington (WA) is to contact a professional moving company directly for a customized quote.
Frequently Asked Questions