97%
of customers
recommend us
If you're planning on making a Wildwood local and long-distance relocation, we've got your back. We'll save the day with our smarts and savvy to get everything organized for a smooth transition. No matter how local or long-distance it is, we'll help you settle into your new location.
Wildwood Long Distance Moving Companies
Your stuff is in good hands with Three Movers cheap Wildwood movers. We are the most reliable Wildwood long-distance cheap movers around. Our staff of insured, experienced professional movers will take care of everything from start to finish to give a great service! You can count on us for peace all mind knowing that your belongings are secure.
Moving is hectic enough, but you can be confident that we'll help make your long-distance moving process stress-free. With decades of experience handling moves like yours, we are always there for our customers. Now, you don't have to worry or stress about your moving service going smoothly cause you are guaranteed of outstanding customer service.
When you're making a long-distance move, Three Movers will take care of everything for you. We'll help make your Wildwood long-distance relocation as stress-free as possible. Also, our friendly team is always available for any questions or concerns that arise.
Our team of professionals is committed to saving you time and money! Our skilled drivers will ensure your belongings reach their destination in one piece. Additionally, our fleet vehicles can help get them there efficiently. So, you won't have to worry about the logistics during this exciting time. Why not reach out today, and we'll work out an estimate for you.
Local Wildwood Movers
You don't have to worry when you hire Three Movers for your local Wildwood move. Our expert moving team members will pack all of your items before the big day. And by the time our knowledgeable movers are done unpacking at your new location across town, it feels like home with our excellent customer service!
Some Common Moving Services Offered by Three Movers in Wildwood
Military moving
Same day moving
How Much Will a Wildwood Move Cost?
To make the process of moving a good one, it is important that you plan properly. Know how many boxes are needed for your move and what storage space will be available in your new home. These can help things go smoothly on the moving day! It's also beneficial if someone helps with the heavy lifting. This way, stressful tasks like carrying furniture upstairs or loading large objects into trucks won't be stressful at all.
Three Movers offers competitive rates tailored specifically to each customer. So, there's no need to worry about prices when making preparations for your next move!
Types of Moves offered in Wildwood, Missouri
Residential move information in Wildwood, Missouri
Moving to a new area can be difficult owing to a large number of belongings you may desire to carry with you. It is critical to secure your things throughout your transfer by taking the necessary precautions. Three Movers has developed relocation procedures that enable us to carry your belongings anywhere in the United States. Distance isn't an issue while you're with us. All of the services are also competitively priced, so you won't have to worry about becoming broke. Moving into your new home should not be as difficult as you would imagine with our support.
Commercial and Office Movers in Wildwood, Missouri
We understand the requirements that enterprises have while migrating. Planning is the first step toward a successful corporate relocation. With his plans to relocate, there is also hope for a successful business. We keep that hope alive by relocating your business at your own pace. Our crew gives you a bonus in the form of personalization. Without one, it may be difficult to match your goals to the activities we can undertake. We guarantee that there will be no losses in your transfer since we believe that your relocation should be protected.
Military Movers in Wildwood, Missouri
It may be difficult to move anything on your own, from papers to specific things. If you want to reward yourself for the time and effort you put in to prepare for your relocation, Three Movers is the right service provider for you. We can transport your dogs, autos, and household items anywhere you want them to go. We can also advise you on what to bring with you to your new base. If you do not have support, you may encounter unexpected delays that will complicate your transfer. When relocating to a new base, you need full service. Please deliver them to us.
International movers in Wildwood, Missouri
International relocating is more difficult than other sorts of migration. Some requirements are only apparent when migrating abroad, and some migrations may not have access to the necessary services. Three Movers offers full international moving services. Here's how we can help you. To begin with, we can help you with your paperwork. Help is easily accessible, and by supporting you, we can prevent any delays in your relocation. Following that, we may be able to assist you with moving your belongings to the port in a safe manner. Using the resources we have, we can aid you in promptly relocating these goods. Finally, we can help you find international transportation to help you move your goods to your new home.
Flat Rate and Hourly movers
It might be difficult to proceed with your relocation without the required services that you may require to get your stuff transferred right from the start. Without the right information to get your belongings transferred, you may encounter financial difficulties that are difficult to overcome. With Three Movers, you must ensure that they are transferred at the lowest feasible cost. A fixed cost and hourly relocation services will assist you in mitigating complications that may arise during your transfer.
Additional Moving/Shipping Services in Wildwood, Missouri
Packing and Crating
One of the most important things to remember while shifting your belongings is to have them covered from the start. It might be difficult to predict how much protection your possessions will require when you transport them. However, you must ensure that you have a mover that is confident in the methods of shifting your goods to a new location. Three movers can assist you in mitigating some issues, such as packing your products and valuables. When looking for professional moving companies, make sure you have this information on hand. We offer crates that can assist in the lifting of big objects in a bid to provide quality moving services. Because we offer a "white glove" service, our moving trucks can also accommodate fragile products.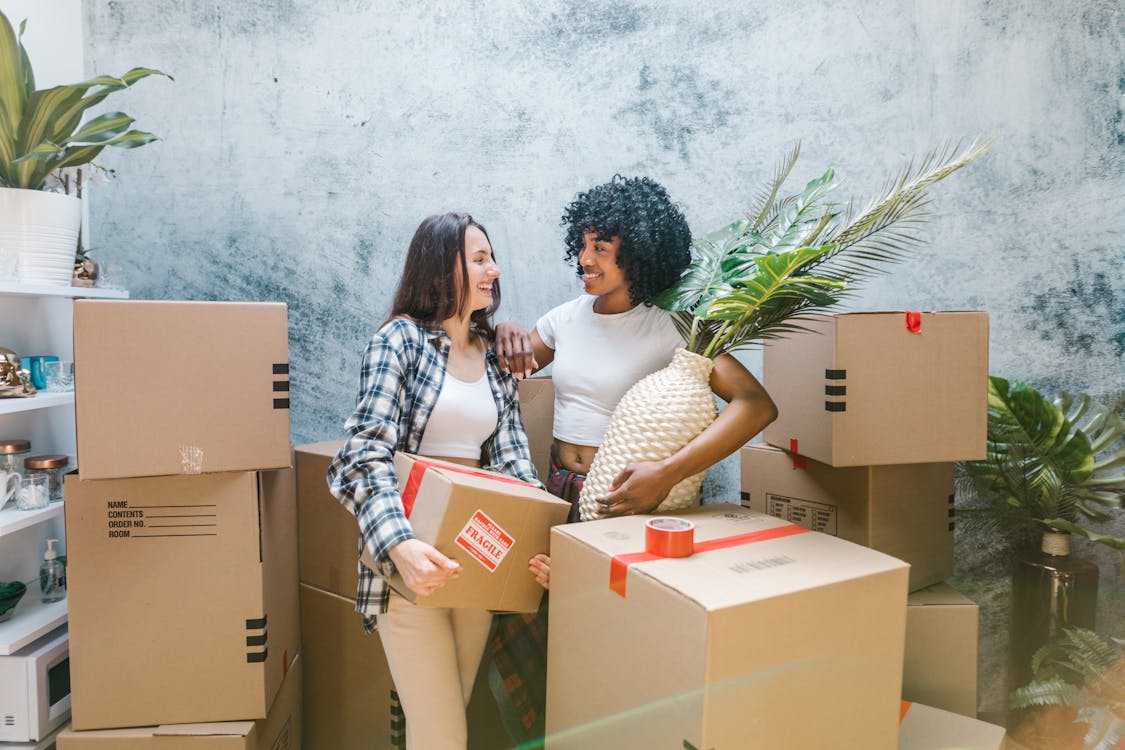 Insurance
When considering migrating to another location, you must examine the associated expenditures. Moving may be expensive on a budget, and you don't want failures to harm your financial situation. When faced with this problem, you should be aware that getting insurance to cover your valuables can assist to mitigate risks. As a result, if your things are damaged or broken, you will receive prompt recompense. You should make certain that you do not miss out on the possibility to have your belongings transported in the safest possible manner.
Full-service moves
It shouldn't be too difficult to have your stuff positioned exactly where you want them. Getting them safeguarded, on the other hand, is a responsibility you may not want to overlook. Proper tools and equipment may assist us in alleviating negative situations that must be handled. In this manner, we may relocate whatever objects you have, including all of the items in your home. Vehicles and pets can also be transported by our staff. If you are searching for a means to relocate your belongings, you must ensure that you have a mover that can assist you in completing your relocation.
Storage
People's storage requirements differ. Some may require more accessibility, while others may require enhanced protection. However, with Three Movers, you may enjoy the best of both worlds. We can assist you in locating the best match for your requirements. Furthermore, we can assist you in properly relocating your goods to a location other than your house. Your storage container provides the necessary security, so we can assist you in accessing it for as long as you require.
Same-day movers
Urgent relocations, which might be time-consuming, do not necessitate forethought. When relocating on the same day, Three Movers will assist you by putting the most experienced movers and carriers on your side. With them, you can be confident that any plan will be carried out quickly and efficiently. They can assist you in prioritizing what is required for your migration, as you can learn from their experiences. When it comes to moving your items, you can be sure that same-day relocation can be safe as well.
Auto Transport
Having your automobile transferred rather than driving it yourself is a precaution that you should take. You may have your automobile transferred at a reasonable fee with Three Movers. Our team's auto transport services include instruments and equipment that can ensure your vehicle's safety. Our long distance movers safeguards the integrity of your vehicle on your move date by ensuring that it is relocated with all of the information required to protect it. Sometimes, you may think that you can pull off the relocation services that you need however, you must remember to have your needs prioritized and that is where Wildwood moving companies comes in.
Cost & Time Examples For Moving To Or From Wildwood
| To / From Wildwood, MO | Distance | 2 BR | 3 BR | 4 BR |
| --- | --- | --- | --- | --- |
| Wildwood, MO to Pueblo CO | 823 | $1481.4 – $1810.6 | $1975.2 – $2222.1 | $2633.6 – $3045.1 |
| Manchester, IL from Wildwood, MO | 97 | $174.6 – $213.4 | $232.8 – $261.9 | $310.4 – $358.9 |
| Wildwood, MO to Everett, WA | 2088 | $3758.4 – $4593.6 | $5011.2 – $5637.6 | $6681.6 – $7725.6 |
| Pompano Beach, FL from Wildwood, MO | 1212 | $2181.6 – $2666.4 | $2908.8 – $3272.4 | $3878.4 – $4484.4 |
| Wildwood, MO to Costa Mesa, CA | 1803 | $3245.4 – $3966.6 | $4327.2 – $4868.1 | $5769.6 – $6671.1 |
| Broken Arrow, OK from Wildwood, MO | 366 | $658.8 – $805.2 | $878.4 – $988.2 | $1171.2 – $1354.2 |
| Wildwood, MO to El Monte, CA | 1787 | $3216.6 – $3931.4 | $4288.8 – $4824.9 | $5718.4 – $6611.9 |
| Lewisville, TX from Wildwood, MO | 596 | $1072.8 – $1311.2 | $1430.4 – $1609.2 | $1907.2 – $2205.2 |
| Wildwood, MO to Antioch, IL | 370 | $666 – $814 | $888 – $999 | $1184 – $1369 |
| Hillsboro, IL from Wildwood, MO | 98 | $176.4 – $215.6 | $235.2 – $264.6 | $313.6 – $362.6 |
*Prices and times are estimated. They can vary depending on the season and other factors. Get a quote custom tailored to you.
| | | |
| --- | --- | --- |
| Orrville | City Center | Glencoe |
| Pond | Strecker Rd | Clayton Rd |
| Waterside Dr | Port Of Nantucket Dr | Grover |
Resources
Other Cities In Missouri That We Serve:
Wildwood, Missouri includes ZIP codes:
63005, 63011, 63021, 63025, 63038, 63040, 63069