97%
of customers
recommend us
With over 6 million residents, Missouri ranks high as one of the states with the highest inflow and outflow of movers in the United States. If you are like one of the many Missouri movers, you'll need every bit of assistance you can get. There's no better place to get the right level of assistance than from a reliable moving company like Three Movers. Contact us today to discuss the details of your move and how we can help handle it. 
Long-Distance Moving Companies in Missouri
Despite being a landlocked state, Missouri still often presents unique challenges to long-distance movers looking to move into or out of the state. Whether you are moving for commercial purposes or starting a new life in one of the neighboring states, you want your move to be smooth. Unfortunately, there's often so much to think about at the same time. The last thing you want is for the smoothness of your journey to be marred by unforeseen circumstances. Why leave things to chances when an experienced moving company can help you get the best experience from your move. 
From time immemorial, people have trusted moving companies with their long-distance moving needs. However, it's vital to opt for top-level moving companies. Before choosing a moving company, please do your due diligence to ensure they are efficient and effective. Some of the factors to look out for include:
Affordability
Top-quality Services
Customer satisfaction
Reputation.
The last point is crucial because you can tell what to expect from a cheap Missouri movers company by looking at how it has treated previous clients. An excellent way to find out about a company's reputation is by looking at customer reviews on independent review platforms like The Better Business Bureau. Top-level moving companies like Three Movers have the best reviews on these platforms, so you can be guaranteed that we'll meet and surpass your expectations as far as Missouri long-distance moves are concerned.
Local Missouri Movers 
Moving within Missouri is not as easy as many people think. There are also several challenges that movers have to mitigate. Unfortunately, inexperienced movers hardly know how to mitigate these challenges. In contrast, you need a top-level moving company to help handle all your local moves. The staff at Three Movers are rightly trained to handle different circumstances faced by Missouri Local movers. We understand the unique weather conditions and the topography of Missouri, so you can expect that we'll move your fragile properties without problems. In addition to our knowledge of Missouri, we also use the latest technologies for loading and unloading your properties. These technologies help for the safe and faster delivery of your properties. 
Some Common Moving Services Offered By Three Movers in Missouri
Military moving
Same day moving
How Much Will A Missouri Move Cost?
The amount you'll pay for your residential and commercial moves in Missouri depends on various factors like moving distance, special needs, storage facility to be used, and size of properties. However, we will provide a non-obligatory quote detailing all you'll need to pay from the start. This helps to ensure that you don't have unexpected costs popping up during the move. We've also found a formula that balances top-quality services with affordability, so you can be guaranteed that you are getting some of the most competitive prices for each service. Contact us now to request a quote. 
Types Of Moving Services In Missouri
Residential Movers In Missouri
When planning a move to your new home, you want the entire process to be handled in a satisfactory manner. And the best way to make sure you're satisfied with how everything was handled is to hire the services of professional residential movers. Three Movers offers its clients reliable and affordable long-distance, local, and overseas residential moves. After operating for more than two decades, we have built a reputation for offering fast and hassle-free residential moves in Minessota. Whether you are moving to the next building or moving your own businesses to a new country, our job as a reputable full service moving company is to create customizable moving solutions.
Office/ Commercial Movers In Missouri
We call a move from old offices to new offices an office/ commercial move. In most cases, commercial moves refer to any non-residential move. Whether the company is large or small, a lot of planning is involved when executing a commercial move. Therefore, business organizations need to hire commercial moving companies with a proven track record of successfully executing commercial moves. Our moving solutions for businesses are geared towards ensuring minimal interruptions to our customers' business operations. And that's why we offer our customers a corporate relocation manager who will facilitate and manage the entire corporate moving services /process.
Military Movers In Missouri
Once military personnel receive their permanent change of station (PCS) orders, they must immediately move to their new stations. It doesn't matter whether they're moving to another state or a foreign country. Unfortunately, most moving companies contracted by the military offer limited moving services, and the military usually controls the move. Three Movers offers military personnel a moving service referred to as personally procured move (PPM). With our PPM services, members of the military have more control over their moves. They can also access customizable moving options based on their moving needs. After the move, they can ask the military to reimburse their expenses.
International Movers In Missouri
Three Movers has been developing its global moving capabilities for the past 20 years. We have successfully facilitated the international relocation of many clients within that period. And we're continuing to improve our service delivery to ensure our international moving services are unparalleled. We've developed a network of partners who help us provide our customers with different transportation options, custom clearance management services, international storage solutions, tracking systems, etc. To ensure that the entire moving process seems less daunting and becomes less stressful, we've ensured that our moving crew is well trained and well prepared to handle all kinds of emergencies.
Flat Rate and Hourly Movers In Missouri
When it comes to pricing, moving companies exist in two forms, flat-rate and hourly rate movers. Flat-rate movers charge their customers a single fee. While hourly rate movers charge their customers for every hour they work. Here at Three Movers, we offer both moving services as a way to ensure that our customers pay a fair price for our services. We offer hourly rate moves when our customers move out of a small apartment and the distance being traveled is short. While our flat-rate move services are offered to customers moving out of a large residence and the distance being covered is large.
Additional Moving/ Shipping Services In Missouri
Packing and Crating
Three Movers offers packing and crating services to ensure the safety of our customers' belongings and valuables during transit. We understand that customers can only rest easy during their local,interstate and cross country move if they're assured that their possessions will reach the final destination unscathed and intact. That's why we've taken it upon ourselves to provide our customers with full quality control packing and crating options. Our packing services are preferred for normal belongings like clothing, books, kitchen appliances, utensils, etc. Customers that have delicate and expensive items prefer our crating services. And for clients who have extra-delicate valuable items, they can request our 'white glove services.'
Full-Service Move
Many customers who can't facilitate a do-it-yourself move either because they're not interested or are preoccupied with other activities prefer using our full-service move. With our full-service move, we match a customer's moving requirements with the moving services we offer, and our professional movers handle all the heavy lifting. With this service, customers don't have to lift a finger since our moving crew will take care of
Packing and unpacking
Disposal of junk
Transporting belongings
Loading and unloading
Furniture disassembly and reassembly
And as for the customers, all they have to do sit back, relax, and watch as their workload reduces.
Storage
At Three Movers, we offer our customers short-term and long-term storage services. And it doesn't matter whether you want to store a few of your belongings, all of your belongings, or your most valuable possessions. We've prepared well enough to ensure that there is no storage request that we can't meet. We maintain and manage our storage and warehousing facilities to ensure that customers don't have to deal with two companies during their move. We've also partnered with several storage services across the country in case you need storage-in-transit services. We also help our customers arrange for storage with storage companies that they prefer.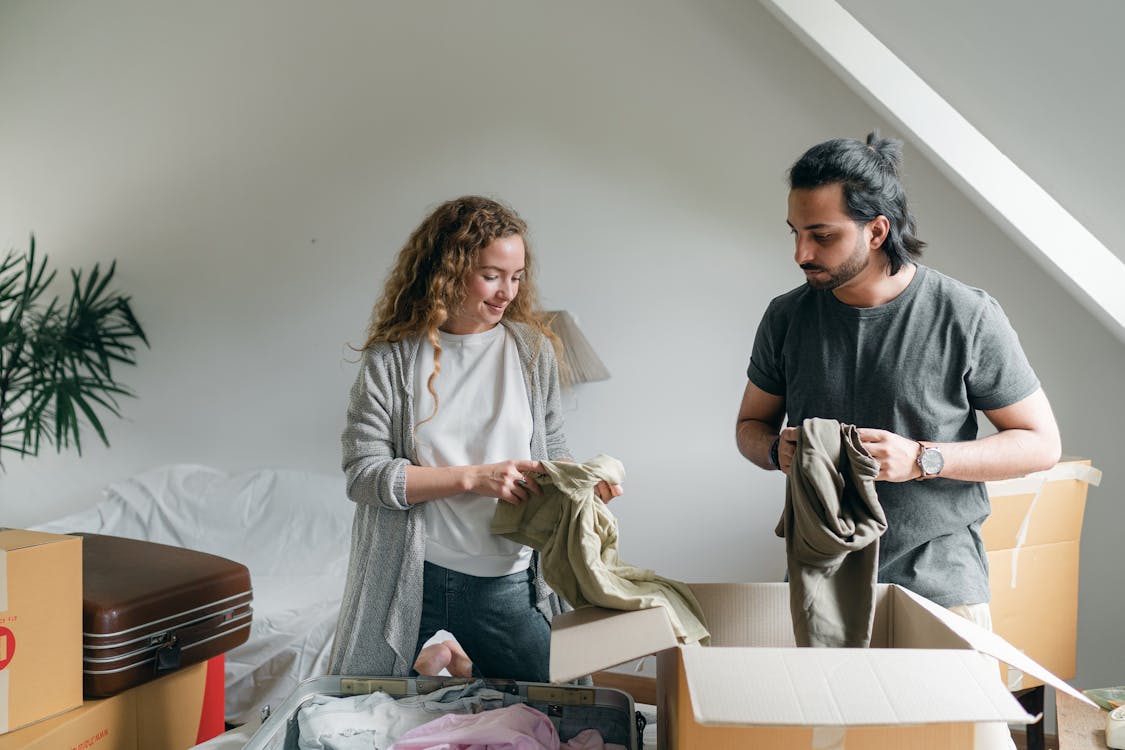 Insurance
All moving companies operating a legitimate moving business have to offer their customers an insurance policy that protects their possessions while in transit. Accidents can happen at any time. And these accidents could destroy or damage a customer's belongings. Therefore, to ensure that disputes don't arise, Three Movers requires customers to select an insurance coverage option from the following three options available
Full Value Protection
Release Value Protection
Separate Liability Coverage
With insurance coverage, any items damaged, destroyed, or lost are reimbursed. However, you should always read the policy guidelines to make sure it covers what you need.
Same-Day Moves
Relocating to a new place unexpectedly for whatever reason is always a source of stress for many people. Do-it-yourself moves cause a lot of physical and psychological stress. However, same-day moves can amplify the psychological stress you will experience due to the pressure of time constraints and lack of proper planning. And this is the reason why you need the help of a professional moving company that has enough experience facilitating same-day moves. With our same-day moving services, we can offer you a stress-free last-minute moving experience. Whether you only need our labor moving services (loading and unloading) or are interested in any other extra services, our moving crew will readily provide you with whatever you need.
Auto-Transport
Whether your car is running or not or large or small, if you want to transport it over a large distance, you'll need the services of a car shipping company. As part of our wholesome moving services, Three Movers offers auto-transport services to customers who can't travel by their car during their move. These include customers who opt to fly to their new residence or those who own multiple cars. We offer door-to-door or terminal-to-terminal auto transport services, and our service is 100% licensed and insured. Our customers also have the option to choose between open-air or enclosed auto transport.
Are you ready to discuss your first move? Contact us today to learn how you can leverage our services for your moving needs.
Cost & Time Examples For Moving To Or From Missouri
| To / From Missouri | Distance | 2 BR | 3 BR | 4 BR |
| --- | --- | --- | --- | --- |
| Missouri to Jackson, MS | 485 | $873 – $1067 | $1164 – $1309.5 | $1552 – $1794.5 |
| Lancaster, PA from Missouri | 933 | $1679.4 – $2052.6 | $2239.2 – $2519.1 | $2985.6 – $3452.1 |
| Missour, MO to Lakewood, CO | 827 | $1488.6 – $1819.4 | $1984.8 – $2232.9 | $2646.4 – $3059.9 |
| Salinas, CA from Missouri | 1946 | $3502.8 – $4281.2 | $4670.4 – $5254.2 | $6227.2 – $7200.2 |
| Missouri to Hollywood, FL | 1310 | $2358 – $2882 | $3144 – $3537 | $4192 – $4847 |
| Killeen, TX from Missouri | 682 | $1227.6 – $1500.4 | $1636.8 – $1841.4 | $2182.4 – $2523.4 |
| Missouri to Kansas City, MO | 218 | $392.4 – $479.6 | $523.2 – $588.6 | $697.6 – $806.6 |
| Macon, GA from Missouri | 745 | $1341 – $1639 | $1788 – $2011.5 | $2384 – $2756.5 |
| Missouri to Sunnyvale, CA | 1992 | $3585.6 – $4382.4 | $4780.8 – $5378.4 | $6374.4 – $7370.4 |
| Springfield, IL from Missouri | 209 | $376.2 – $459.8 | $501.6 – $564.3 | $668.8 – $773.3 |
*Prices and times are estimated. They can vary depending on the season and other factors. Get a quote custom tailored to you.
Resources
Frequently Asked Questions