97%
of customers
recommend us
Hawaii Movers: Cheap Moving Companies Near You
Are you looking for the right moving company in Hawaii? Three Movers is the place to go. We are a widely renowned company with years of experience that provides outstanding services across the country, including in Hawaii. We offer quick and effective services that are certain to suit all of our customers requirements thereby relieving them of relocation stress. Our team of royal Hawaiian movers are well trained and has a wealth of expertise. We've committed to giving our customers the best moving service possible and putting their minds at ease during their residential or business relocation.
Long-distance moving is the delivery of products from one location to another that is thousands of miles apart and requires crossing state borders. This takes a long time because the manner of transportation is by road, and the terrain can also make travel difficult. Three Movers is a long-distance moving company that provides affordable and high-quality services.

Services At Three Movers
We offer the following services.
Long Distance Moving
Auto Transport
Storage
Packing & Crating
Furniture Disassembly & Reassembly
Specialty Moving
Moving Resources
Quality service is very important to us, as we care about our customers deeply.
What Costs To Expect?
We take into account the type of objects to be transported, their weight and heavy lifting, the distance the items must be transported, and the number of vehicles required to transport the selected items. We make every effort to price our clients reasonably.
How Prepared Is Three Movers To Work?
We are well prepared with a well-organized team of workers and well serviced vehicles to carry items and freight forwarding of customers without failure to the required destination.
Residential Movers In Hawaii
Residential movers facilitate your move from your old home to your new home. Whether it's a local or long-distance move changing residences is normally a challenging task for most people. Luckily, with the residential moving services of Three Movers, you no longer have to feel worried about your move. Our professional crew of movers will help you plan and facilitate the moving process. Aside from our moving services, other services you can expect from our professional movers include
Packing and unpacking services
Loading and unloading services
Furniture disassembly and assembly services
Storage services
Auto-transport services
Office/ Commercial Movers In Hawaii
Office/ commercial moves are considered to be non-residential moves. These moves have to be handled by professionals due to security issues, tight deadlines, and planning involved. To make it easier for you to plan your move, we provide our customers with dedicated corporate relocation managers.
Our moving experts offer specialized commercial moving services to business owners across Hawaii. With our commercial moving services, business owners get to enjoy
Working with a fully certified and insured moving company
Enhanced safety for their office equipment and supplies
Working with an experienced crew that focuses on professionalism
Military Movers In Hawaii
Military servicemen and women get relocated to new stations regularly. And once they receive the permanent change of station (PCS) orders, in most cases, they have to move with their belongings to their new station. As a result, they require the services of a moving company that can handle immediate moves.
Our military moving services are specialized to ensure that our servicemen and women have a positive moving experience. Whether it's a move to another state or another country, we're always ready to execute the move.
We offer members of the military special moving services like auto transporting and pet shipping services.
International Movers In Hawaii
International relocation is the most challenging move anyone can handle. Moving to a new country is stressful because it involves several stages that have to be handled by different players in the moving industry. That's why you need to hire a company experienced in executing moves to the country you're moving to.
Three Movers has, over the years, executed moves in several different countries. We've developed relationships with some of the best sub-contractors involved in international moves. Our network of sub-contractors we work closely with include ocean transporters, storage companies, truck companies, origin and destination agents, freight forwarders, etc.
Flat-Rate And Hourly Movers In Hawaii
Flat rate movers are moving companies that offer their services at a fixed price. In comparison, hourly movers are moving companies that charge their services by the hour. However, most moving companies offer a combination to allow customers to select the pricing option they prefer.
If you want to hire hourly rate movers, make sure that the distance of your move is short, you don't have a lot of belongings and check the loading and unloading times. You should also make sure you don't require any extra services that will increase workload and work time.
If you want to hire flat rate movers for your local moves, make sure they give you a breakdown of how they came up with the fixed price you have to pay. Also, ensure that they'll not ask you to pay any extra charges.
Packing And Crating
Packing and crating are important moving services that moving companies offer to ensure that customers' belongings remain protected while in transit. The packing and crating service offer different levels of protection to your belongings. While packing, we use moving boxes and bubble pop wrapping paper to secure your belongings. On the other hand, crating uses specialized moving boxes to protect your most delicate and valuable possessions during the entire process. Alternatively, you can request our 'white-glove service, another packing service that provides enhanced protection to expensive possessions like fine art and antiques. All our packing and crating services are for local, long-distance and international moves.
Full-Service Moves
As the name suggests, a full-service move is a service that allows our customers to access all of the services we offer at Three Movers. We offer this service for all types of moves, including overseas, local, long-distance, and short-distance moves. If you request our full-service move, you will not lift a finger during the entire moving process. Our professional moving team will handle everything from the beginning to the end. Some of the benefits our full-service customers get to enjoy include
Time to focus on your daily activities
Opportunity to save money
Chance to rest and avoid stress
Storage
Storage services are essential if you're planning a long-distance move, moving overseas, or planning to downsize. With our storage facilities, you can be able to store your belongings safely and plan to send them to your new residence or office at a later date. Here at Three Movers, we offer our customers storage services. We maintain several storage facilities in Hawaii that customers can access and manage for as long as they need them. We offer short and long-term storage solutions. Therefore, customers can store their belongings with us for as long as they'd like.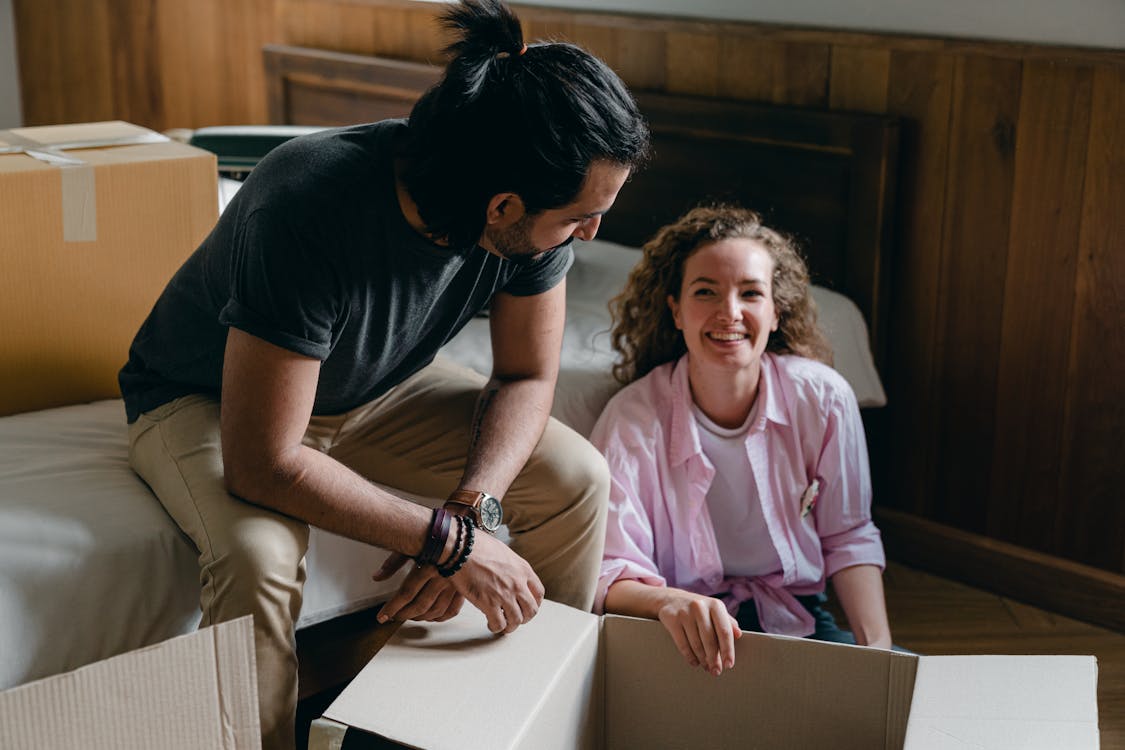 Insurance
Insurance is meant to protect your belongings from damage or destruction during transit. The government doesn't authorize moving companies to offer insurance coverage policies to their customers. However, since moving companies must be insured, they use 'valuation options' to protect your belongings against destruction or damage.
Three Movers offers two valuations. They include
Full Value Protection: Items valued over $100 per pound aren't covered.
Released Value Protection: Only items that don't cost more than $0.60 are covered.
Alternatively, we provide our customers with the opportunity to purchase 3rd party insurance coverage policies. If you prefer a 3rd party insurance policy, ensure that the initial planning policy covers your needs.
Same-Day Moves
Same-day moves are mainly offered to customers who request moving services at the last minute. To find same-day cheap movers in Hawaii, all you have to do is conduct a simple Google search. Due to the emergency nature through which same-day moves are executed, planning for the moving process is rarely done. As a result, most movers rarely put a lot of thought into packing since arriving at your new destination is the priority. Therefore, don't be surprised when your clothes are removed from your closet and loaded together with the hangers. However, the same-day movers you hire should be able to provide moving boxes to protect your belongings from damage properly.
Auto Transport
Auto transport is an important service that is often offered with our long-distance and international moving services. A large number of our customers don't accompany the moving truck of our allied van lines to their new residence. They take flights to their new home.
And with our auto transport services, we can help transport their vehicles to their new residence. The auto transport industry is thriving. Three Movers collaborates with some of the leading players in the industry to offer auto transport services. Our services help our customers
Avoid delayed arrival time
Reducing moving costs
Avoid unnecessary risks like road accidents
Should I choose Hawaiian full-service movers or rent a truck and move myself?
Whether you should choose Hawaiian full-service movers or rent a truck and move yourself depends on several factors, including your budget, your time constraints, and your level of comfort with moving.
Full-service movers
Pros:
They can handle all aspects of your move, from packing and loading to unloading and unpacking.

They have the experience and expertise to move your belongings safely and efficiently.

They are insured against damage or loss.

They can save you a lot of time and stress.
Cons:
They are typically more expensive than renting a truck and moving yourself.

You may need to coordinate with multiple companies if your move involves shipping your belongings to or from Hawaii.

You may have a longer ETA if the company groups shipments.

Storage options may be scarce, expensive, or unavailable.

Highest-contact option: Movers will be in your home and touching your things.
Renting a truck and moving yourself
Pros:
It is typically less expensive than hiring full-service movers.

You have more control over the moving process and the schedule.

You can save money by packing and unpacking yourself.

You can avoid the hassle of coordinating with multiple companies.
Cons:
You must do all the work, including packing, loading, unloading, and unpacking.

It can be physically demanding and time-consuming.

You are responsible for any damage or loss to your belongings.

You may need to ask friends and family for help.
Which option is right for you?
If you are on a tight budget and are okay with doing the work yourself, renting a truck and moving yourself may be the best option. However, hiring full-service movers may be better if you need more time, value convenience, or have a lot of belongings to move.
How can I find the best moving companies in Hawaii?
Here are a few tips for finding the best moving companies in Hawaii:
Ask for recommendations from friends, family, or neighbors who have recently moved in Hawaii. Word-of-mouth is often one of the best ways to find a reputable company.

Search online review sites like Yelp, Google Reviews, or the Better Business Bureau to read feedback from past customers. Look for companies with consistently positive reviews.

Check with local Hawaii associations like the Hawaii Movers & Warehousemen's Association or the Better Business Bureau for properly licensed and insured companies. This helps avoid potential scams.

Get in-home estimates from at least 3-4 moving companies. Reputable companies should provide on-site estimates for free. Compare their prices and services.

Ask about their licensing, insurance coverage, experience moving in Hawaii, number of crews available, and what is/isn't included in their moving packages.

For inter-island moves, inquire if they have their own equipment and boats or partner with other companies. You want to minimize third-party hand-offs.

See what safety certifications they hold from organizations like the American Moving & Storage Association. Certified companies follow certain codes of conduct.

Avoid companies that demand large deposits or payments only in cash. Reputable movers typically accept credit cards, checks, etc.
These tips will help you find the most reliable movers in Hawaii for your specific moving needs.
Should I hire Hawaiian commercial moving companies, or will any moving company work?
Whether or not you should hire a Hawaiian commercial moving company depends on a few factors, including the size and complexity of your move, your budget, and your timeline.
If you are moving a large or complex business, hiring a commercial moving company with experience with moves of that size and scope is generally recommended. This is especially true if you are moving to or from Hawaii, as some unique challenges are associated with moving to and from an island.
For example, Hawaiian commercial moving companies will be familiar with the local regulations and requirements for moving large or specialized items, such as office equipment or IT infrastructure. They will also be able to help you coordinate with transportation companies and other vendors to ensure that your move goes smoothly.
However, if you are moving a small business or a single office, you can save money by hiring a general moving company. Just be sure to research and choose a company with a good reputation and experience with commercial moves.
Why should I work with local Hawaiian moving companies?
There are several reasons why you should consider working with local Hawaiian moving companies when moving to, from, or within the islands:
Local knowledge and expertise. Local Hawaiian movers have the knowledge and expertise to navigate the unique challenges of moving in Hawaii, such as narrow roads, steep hills, and long distances between islands. They also know the best way to pack and transport your belongings to ensure they arrive safely and on time.

Customer service. Local Hawaiian movers are typically more customer-oriented than larger national chains. They take the time to understand your individual needs and create a moving plan that's right for you. They also tend to be more flexible and accommodating regarding scheduling and pricing.

Supporting the local economy. When you work with a local Hawaiian moving company, you support the local economy and create jobs in your community.
Competitive rates. Local Hawaiian moving companies are often more affordable than national chains, especially for short-distance moves.

Flexible scheduling. Local Hawaiian movers are more likely to be flexible with scheduling, especially if you need to move on short notice or a weekend.

Personalized service. Local Hawaiian movers are more likely to take the time to get to know you and your needs, and they are more likely to go the extra mile to make your move as smooth and stress-free as possible.
If you're looking for a moving company that will provide you with the best possible service and experience, we highly recommend working with a local Hawaiian moving company.
How much does hiring a moving company cost in Hawaii?
The cost of hiring a moving company in Hawaii varies depending on several factors, including the size of your move, the distance you are moving, the time of year, and the services you choose. However, you can expect to pay between $500 and $10,000 for a local move and between $1,500 and $12,000 for a long-distance move.
Here are some of the factors that can affect the cost of your move:
Size of your move: The more belongings you have, the more expensive your move will be.

Distance you are moving: Local moves are typically less expensive than long-distance moves.

Time of year: Moving during the summer is typically more expensive, as this is the busiest time for movers.

Services you choose: Some moving companies offer additional services, such as packing, unpacking, and storage. These services can add to the overall cost of your move.
To get an accurate estimate of the cost of your move, it is important to get quotes from multiple moving companies. Be sure to ask about all of the services included in the quote and any additional fees that may apply.
How do I check if a moving company is licensed in Hawaii?
Here are a few tips for checking if a moving company is licensed to operate in Hawaii:
Ask the company directly if they are licensed in Hawaii. Reputable movers should be fine by providing their license number or proof of being properly registered with the state.

Check the company's website or other marketing materials for mentions of being licensed in Hawaii. This information is often prominently displayed.

Search the online database of the Hawaii Department of Commerce and Consumer Affairs (DCCA). The DCCA regulates and licenses various businesses in Hawaii, including movers. You can search for a company by name to see if it holds an active household goods mover license.

Look up the company on the Better Business Bureau (BBB) website. The BBB assigns letter grades and provides information on business complaints and reviews. See if the company has a Hawaii presence and check their rating.

Ask for references from past Hawaii customers. A legitimate mover should be able to provide references for local moves they have completed.

Confirm they have a local Hawaii address and phone number. Licensed movers in Hawaii need a physical location within the state.

Require them to provide their Hawaii license number before booking. Reputable companies will readily provide this, scammers will refuse or make excuses.
A thorough check beforehand ensures you choose a licensed and vetted moving company for your Hawaii move. Let me know if you need any other tips!
What day is the cheapest to hire movers in Hawaii?
The cheapest day to hire movers in Hawaii is Monday. Movers are typically busiest on weekends and holidays, so they charge higher rates on those days. Weekdays are less popular for moving, so movers are more willing to negotiate on price.
How many movers do I need for my move to Hawaii?
If you have a small home or apartment and only a few furniture items, you may get away with hiring two movers. However, if you have a large home or a lot of belongings, you may need to hire three or four movers.
If you are moving long-distance, consider hiring a company specializing in long-distance moves. These companies will have the experience and expertise to transport your belongings to Hawaii safely.
Finally, the level of service you want will also affect how many movers you need. If you want the movers to pack, load, and unload your belongings, you will need to hire more movers than if you are just hiring them to move your belongings.
What factors affect the cost of a Hawaii move?
Distance: The distance from your current location to Hawaii is significant. Longer distance leads to higher shipping costs. 

Weight and Volume of Goods: The more items you have to move, the more you'll have to pay. Large or heavy items may attract additional fees.

Type of Shipment: The type of shipment you choose for your move can significantly impact the price. Options can vary from air to sea freight, with sea freight typically being the cheaper but slower option.

Time of the Year: Similar to other moving services, prices can fluctuate depending on the time of year. High season (typically summer months) may have higher prices due to demand.

Packing Services: If you choose to have your moving company pack and unpack your belongings for you, this will add to the total cost of your move.

Insurance: Adding insurance to your move will also add to the overall cost. This is to cover the cost of items in case they get lost or damaged during transit.

Special Items: If you're moving possessions like antiques, pianos, cars, or other special items, this may add to your moving costs as these items need special care or procedures.

Storage: If you need storage in transit or at your destination, this will also increase your moving cost.

Access: Difficult access to your old or new home, requiring shuttles or long carries, can add to your expenses.

Customs: Depending on what you're bringing, customs and quarantine fees may be associated with your move.
  Additional Services: Any additional services, such as furniture disassembly or assembly, appliance disconnect and reconnect, etc., will add to the overall moving cost.
How Do I Contact Three Movers?
Call us on (888)202-0036 and get a free quote at no cost at any time of the day. You can also visit our website and get a comprehensive and detailed information about the service we gladly offer our customers. We are always available to our customers. You can also call to inquire more about the charging rates and how they are adjusted according to the customers requirement and the kind of task to be performed as well as aspects used to reach a specific quotation.
Contact an agent by filling out the fast quote form and get your next move started today!
| To / From Hawaii | Distance | 2 BR | 3 BR | 4 BR |
| --- | --- | --- | --- | --- |
| Hawaii, HI to Houston, TX | 359 miles | $2,516 – $3,134 | $3,685 – $4,860 | $4,860 – $6,995 |
| Hawaii, HI to Schiller Park, IL   | 605 miles | $2,847 – $3,567 | $4,208 – $5,574 | $5,574 – $8,068 |
| Hawaii, HI to El Paso, TX | 888 miles | $3,254 – $4,095 | $4,843 – $6,435 | $6,435 – $9,348 |
| Hawaii, HI to Denver, CO | 869 miles | $3,278 – $4,127 | $4,883 – $6,491 | $6,491 – $9,435 |
| Hawaii, HI to Nashville, TN | 308 miles | $2,438 – $3,032 | $3,561 – $4,692 | $4,692 – $6,744 |
| Los Angeles, CA to Hawaii, HI | 1545 miles | $4,012 – $5,084 | $6,037 – $8,062 | $8,062 – $11,784 |
| Melvindale, MI to Hawaii, HI | 742 miles | $3,063 – $3,847 | $4,546 – $6,033 | $6,033 – $8,751 |
| Bethany, OK,  to Hawaii, HI | 386 miles | $2,437 – $3,031 | $3,560 – $4,690 | $4,690 – $6,741 |
|  Yonkers, NY to Hawaii, HI | | $3,591 – $4,538 | $5,383 – $7,175 | $7,175 – $10,470 |
| Louisville, KY to Hawaii, HI | 445 miles | $2,603 – $3,248 | $3,822 – $5,048 | $5,048 – $7,278 |
*Prices and times are estimated. They can vary depending on the season and other factors. Get a quote
Frequently Asked Questions About Moving Companies in Hawaii