97%
of customers
recommend us
New York to Chicago Movers
Published on 2021-05-11
What's in this article?
hide
New York to Chicago Movers
So you want to enjoy the big city life and the professional sports teams such as Chicago bears, Chicago cubs, Chicago bulls and Chicago white sox all at a reduced cost? That's fundamentally why people decide to leave the big apple city of New York for the windy city of Chicago. Movers provide the requisite information you need to enjoy a hitch-free moving services to your new residence. No doubt, you must be concerned about the long-distance between New York and Chicago. Long distance New York moving companies make it easy by enlightening you on the average cost of moving, the means to move, and even what to expect.
New York to Chicago is an interstate move. This means moving from one state to another as opposed to moving within the same state. For non-stop driving, it is estimated at approximately 796 miles or 1281 km which translates to about 12 hours and 15 minutes.
At Three Movers, we are proud to be one of the top rated New York to Chicago movers. We offer high quality packing materials and packing supplies, as well as free moving estimate (s)for all of our customers. We also have a wide range of truck rental options to choose from for your long distance move, making it easy for you to get your belongings from one city to another.
The average cost for New York to Chicago movers
The fundamental influencer of moving cost is always the distance to be covered. Moving from New York to Chicago costs on an average between $2500-$4000. The quantity/weight of property, exact locale distance, packing/unpacking, as well as handling of special equipment will also cause a variation in how much you pay. This will also be the perfect time to get rid of stuffs you no longer need by hiring junk removal services to help you cut down on moving costs.
Figuring how to move
This includes the entire process from planning till the actual move is done. Taking out time to plan your move really simplifies and prepares you for the expenses involved. During the planning of your long distance move is when you make up your mind on which moving option to go for. You may decide on a do-it-yourself style of moving in which case you must be ready for the hassle of packing and unpacking. Personal driving will warrant you to stop frequently along the way for gas and launch breaks. If you are relocating with children, then be prepared for even more stops.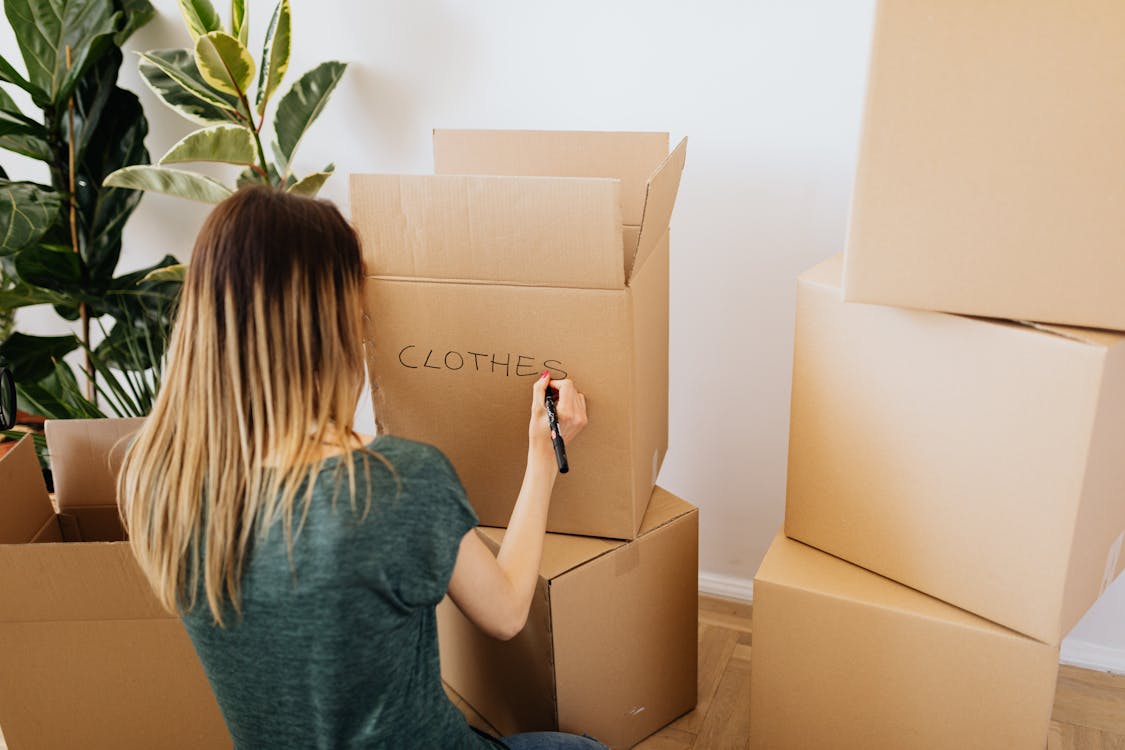 Long distance moving options
People moving long-distance often experience anxiety over moving options. If you're still uncertain about the best method to move your things, below are five options to choose from:
Ship your property: If you're not moving a lot of things then this might be the appropriate option for you. You can hire a shipping service to move just about anything you own.
Rent a moving truck: This is a perfect option for those considering a DIY move. Renting a moving truck works for those movers on a tight budget or who want total control of the moving process and can spare a little extra effort. It is very affordable and goes for as low as $1000 but the price varies depending on the moving company, time of the year, and distance to be covered.
Rent a moving container: Moving containers are an excellent alternative to moving trucks and come with the extra benefit of a storage unit. They're very durable and weatherproof to provide temporary storage during or after a move. They're less expensive in comparison to a professional moving company.
Hire a full-service moving company: Getting the best full service moving companies to handle everything for you is undoubtedly the easiest way to move. It's stress-free and the most expensive moving option. Professional moving companies take care of packing, loading, movement, and unloading. This option is perfect for movers lacking the time and energy yet possessing a more flexible budget.
Labor only movers: These are movers that only provide labor for the move. They see to the loading and unloading of the truck, trailer or container, while you take care of the rest. It's a sort of hybrid mover's strategy.  
New York includes the following zip codes:
00501, 544, 6390, 10001, 10002, 10003, 10004, 10005, 10006, 10007, 10008, 10009, 10010, 10011, 10012, 10013, 10014, 10016, 10017, 10018, 10019, 10020, 10021, 10022, 10023, 10024, 10025, 10026, 10027, 10028, 10029, 10030, 10031, 10032, 10033, 10034, 10035, 10036, 10037, 10038, 10039, 10040, 10041, 10043, 10044, 10045, 10055, 10060, 10065, 10069, 10075, 10080, 10081, 10087, 10090, 10101, 10102, 10103, 10104, 10105, 10106, 10107, 10108, 10109, 10110, 10111, 10112, 10113, 10114, 10115, 10116, 10117, 10118, 10119, 10120, 10121, 10122, 10123, 10124, 10125, 10126, 10128, 10129, 10130, 10131, 10132, 10133, 10138, 10150, 10151, 10152, 10153, 10154, 10155, 10156, 10157, 10158, 10159, 10160, 10162, 10163, 10164, 10165, 10166, 10167, 10168, 10169, 10170, 10171, 10172, 10173, 10174, 10175, 10176, 10177, 10178, 10179, 10185, 10199, 10203, 10211, 10212, 10213, 10242, 10249, 10256, 10258, 10259, 10260, 10261, 10265, 10268, 10269, 10270, 10271, 10272, 10273, 10274, 10275, 10276, 10277, 10278, 10279, 10280, 10281, 10282, 10285, 10286, 10301, 10302, 10303, 10304, 10305, 10306, 10307, 10308, 10309, 10310, 10311, 10312, 10313, 10314, 10451, 10452, 10453, 10454, 10455, 10456, 10457, 10458, 10459, 10460, 10461, 10462, 10463, 10464, 10465, 10466, 10467, 10468, 10469, 10470, 10471, 10472, 10473, 10474, 10475, 10501, 10502, 10503, 10504, 10505, 10506, 10507, 10509, 10510, 10511, 10512, 10514, 10516, 10517, 10518, 10519, 10520, 10521, 10522, 10523, 10524, 10526, 10527, 10528, 10530, 10532, 10533, 10535, 10536, 10537, 10538, 10540, 10541, 10542, 10543, 10545, 10546, 10547, 10548, 10549, 10550, 10551, 10552, 10553, 10560, 10562, 10566, 10567, 10570, 10573, 10576, 10577, 10578, 10579, 10580, 10583, 10587, 10588, 10589, 10590, 10591, 10594, 10595, 10596, 10597, 10598, 10601, 10602, 10603, 10604, 10605, 10606, 10607, 10610, 10701, 10702, 10703, 10704, 10705, 10706, 10707, 10708, 10709, 10710, 10801, 10802, 10803, 10804, 10805, 10901, 10910, 10911, 10912, 10913, 10914, 10915, 10916, 10917, 10918, 10919, 10920, 10921, 10922, 10923, 10924, 10925, 10926, 10927, 10928, 10930, 10931, 10932, 10933, 10940, 10941, 10949, 10950, 10952, 10953, 10954, 10956, 10958, 10959, 10960, 10960, 10962, 10963, 10964, 10965, 10968, 10969, 10970, 10973, 10974, 10975, 10976, 10977, 10979, 10980, 10981, 10982, 10983, 10984, 10985, 10986, 10987, 10988, 10989, 10990, 10992, 10993, 10994, 10996, 10997, 10998, 11001, 11001, 11001, 11002, 11003, 11004, 11005, 11010, 11020, 11021, 11022, 11023, 11024, 11026, 11027, 11030, 11040, 11042, 11050, 11051, 11052, 11053, 11054, 11055, 11096, 11101, 11102, 11103, 11104, 11105, 11106, 11109, 11120, 11201, 11202, 11203, 11204, 11205, 11206, 11207, 11208, 11209, 11210, 11211, 11212, 11213, 11214, 11215, 11216, 11217, 11218, 11219, 11220, 11221, 11222, 11223, 11224, 11225, 11226, 11228, 11229, 11230, 11231, 11232, 11233, 11234, 11235, 11236, 11237, 11238, 11239, 11241, 11242, 11243, 11245, 11247, 11249, 11251, 11252, 11256, 11351, 11352, 11354, 11355, 11356, 11357, 11358, 11359, 11360, 11361, 11362, 11363, 11364, 11365, 11366, 11367, 11368, 11369, 11370, 11371, 11372, 11373, 11374, 11375, 11377, 11378, 11379, 11380, 11381, 11385, 11386, 11405, 11411, 11412, 11413, 11414, 11415, 11416, 11417, 11418, 11419, 11420, 11421, 11422, 11423, 11424, 11425, 11426, 11427, 11428, 11429, 11430, 11431, 11432, 11433, 11434, 11435, 11436, 11437, 11439, 11451, 11499, 11501, 11507, 11509, 11510, 11514, 11516, 11518, 11520, 11530, 11531, 11542, 11545, 11547, 11548, 11549, 11550, 11551, 11552, 11553, 11554, 11555, 11556, 11557, 11558, 11559, 11560, 11561, 11563, 11565, 11566, 11568, 11569, 11570, 11571, 11572, 11575, 11576, 11577, 11579, 11580, 11581, 11582, 11590, 11596, 11598, 11599, 11690, 11691, 11692, 11693, 11694, 11695, 11697, 11701, 11702, 11703, 11704, 11705, 11706, 11707, 11709, 11710, 11713, 11714, 11715, 11716, 11717, 11718, 11719, 11720, 11721, 11722, 11724, 11725, 11726, 11727, 11729, 11730, 11731, 11732, 11733, 11735, 11737, 11738, 11739, 11740, 11741, 11742, 11743, 11746, 11747, 11749, 11751, 11752, 11753, 11754, 11755, 11756, 11757, 11758, 11760, 11762, 11763, 11764, 11765, 11766, 11767, 11768, 11769, 11770, 11771, 11772, 11773, 11775, 11776, 11777, 11778, 11779, 11780, 11782, 11783, 11784, 11786, 11787, 11788, 11789, 11790, 11791, 11792, 11793, 11794, 11795, 11796, 11797, 11798, 11801, 11802, 11803, 11804, 11815, 11853, 11901, 11930, 11931, 11932, 11933, 11934, 11935, 11937, 11939, 11940, 11941, 11942, 11944, 11946, 11947, 11948, 11949, 11950, 11951, 11952, 11953, 11954, 11955, 11956, 11957, 11958, 11959, 11960, 11961, 11962, 11963, 11964, 11965, 11967, 11968, 11969, 11970, 11971, 11972, 11973, 11975, 11976, 11977, 11978, 11980, 12007, 12008, 12009, 12010, 12015, 12016, 12017, 12018, 12019, 12020, 12022, 12023, 12024, 12025, 12027, 12028, 12029, 12031, 12032, 12033, 12035, 12036, 12037, 12040, 12041, 12042, 12043, 12045, 12046, 12047, 12050, 12051, 12052, 12053, 12054, 12055, 12056, 12057, 12058, 12059, 12060, 12061, 12062, 12063, 12064, 12065, 12066, 12067, 12068, 12069, 12070, 12071, 12072, 12073, 12074, 12075, 12076, 12077, 12078, 12082, 12083, 12084, 12085, 12086, 12087, 12089, 12090, 12092, 12093, 12094, 12095, 12106, 12107, 12108, 12110, 12115, 12116, 12117, 12118, 12120, 12121, 12122, 12123, 12124, 12125, 12128, 12130, 12131, 12132, 12133, 12134, 12136, 12137, 12138, 12139, 12140, 12141, 12143, 12144, 12147, 12148, 12149, 12150, 12151, 12153, 12154, 12155, 12156, 12157, 12158, 12159, 12160, 12161, 12164, 12165, 12166, 12167, 12168, 12169, 12170, 12172, 12173, 12174, 12175, 12176, 12177, 12180, 12181, 12182, 12183, 12184, 12185, 12186, 12187, 12188, 12189, 12190, 12192, 12193, 12194, 12195, 12196, 12197, 12198, 12201, 12202, 12203, 12204, 12205, 12206, 12207, 12208, 12209, 12210, 12211, 12212, 12214, 12220, 12222, 12223, 12224, 12225, 12226, 12227, 12228, 12229, 12230, 12231, 12232, 12233, 12234, 12235, 12236, 12237, 12238, 12239, 12240, 12241, 12242, 12243, 12244, 12245, 12246, 12247, 12248, 12249, 12250, 12255, 12257, 12260, 12261, 12288, 12301, 12302, 12303, 12304, 12305, 12306, 12307, 12308, 12309, 12325, 12345, 12401, 12402, 12404, 12405, 12406, 12407, 12409, 12410, 12411, 12412, 12413, 12414, 12416, 12417, 12418, 12419, 12420, 12421, 12422, 12423, 12424, 12427, 12428, 12429, 12430, 12431, 12432, 12433, 12434, 12435, 12436, 12438, 12439, 12440, 12441, 12442, 12443, 12444, 12446, 12448, 12449, 12450, 12451, 12452, 12453, 12454, 12455, 12456, 12457, 12458, 12459, 12460, 12461, 12463, 12464, 12465, 12466, 12468, 12469, 12470, 12471, 12472, 12473, 12474, 12475, 12477, 12480, 12481, 12482, 12483, 12484, 12485, 12486, 12487, 12489, 12490, 12491, 12492, 12493, 12494, 12495, 12496, 12498, 12501, 12502, 12503, 12504, 12506, 12507, 12508, 12510, 12511, 12512, 12513, 12514, 12515, 12516, 12517, 12518, 12520, 12521, 12522, 12523, 12524, 12525, 12526, 12527, 12528, 12529, 12530, 12531, 12533, 12534, 12537, 12538, 12540, 12541, 12542, 12543, 12544, 12545, 12546, 12547, 12548, 12549, 12550, 12551, 12552, 12553, 12555, 12561, 12563, 12564, 12565, 12566, 12567, 12568, 12569, 12570, 12571, 12572, 12574, 12575, 12577, 12578, 12580, 12581, 12582, 12583, 12584, 12585, 12586, 12588, 12589, 12590, 12592, 12594, 12601, 12602, 12603, 12604, 12701, 12719, 12720, 12721, 12722, 12723, 12724, 12725, 12726, 12727, 12729, 12732, 12733, 12734, 12736, 12737, 12738, 12740, 12741, 12742, 12743, 12745, 12746, 12747, 12748, 12749, 12750, 12751, 12752, 12754, 12758, 12759, 12760, 12762, 12763, 12764, 12765, 12766, 12767, 12768, 12769, 12770, 12771, 12775, 12776, 12777, 12778, 12779, 12780, 12781, 12783, 12784, 12785, 12786, 12787, 12788, 12789, 12790, 12791, 12792, 12801, 12803, 12804, 12808, 12809, 12810, 12811, 12812, 12814, 12815, 12816, 12817, 12819, 12820, 12821, 12822, 12823, 12824, 12827, 12828, 12831, 12832, 12833, 12834, 12835, 12836, 12837, 12838, 12839, 12841, 12842, 12843, 12844, 12845, 12846, 12847, 12848, 12849, 12850, 12851, 12852, 12853, 12854, 12855, 12856, 12857, 12858, 12859, 12860, 12861, 12862, 12863, 12864, 12865, 12866, 12870, 12871, 12872, 12873, 12874, 12878, 12879, 12883, 12884, 12885, 12886, 12887, 12901, 12903, 12910, 12911, 12912, 12913, 12914, 12915, 12916, 12917, 12918, 12919, 12920, 12921, 12922, 12923, 12924, 12926, 12927, 12928, 12929, 12930, 12932, 12933, 12934, 12935, 12936, 12937, 12939, 12941, 12942, 12943, 12944, 12945, 12946, 12949, 12950, 12952, 12953, 12955, 12956, 12957, 12958, 12959, 12960, 12961, 12962, 12964, 12965, 12966, 12967, 12969, 12970, 12972, 12973, 12974, 12975, 12976, 12977, 12978, 12979, 12980, 12981, 12983, 12985, 12986, 12987, 12989, 12992, 12993, 12995, 12996, 12997, 12998, 13020, 13021, 13022, 13024, 13026, 13027, 13028, 13029, 13030, 13031, 13032, 13033, 13034, 13035, 13036, 13037, 13039, 13040, 13041, 13042, 13043, 13044, 13045, 13051, 13052, 13053, 13054, 13056, 13057, 13060, 13061, 13062, 13063, 13064, 13065, 13066, 13068, 13069, 13071, 13072, 13073, 13074, 13076, 13077, 13078, 13080, 13081, 13082, 13083, 13084, 13087, 13088, 13089, 13090, 13092, 13093, 13101, 13102, 13103, 13104, 13107, 13108, 13110, 13111, 13112, 13113, 13114, 13115, 13116, 13117, 13118, 13119, 13120, 13121, 13122, 13123, 13124, 13126, 13131, 13132, 13134, 13135, 13136, 13137, 13138, 13139, 13140, 13141, 13142, 13143, 13144, 13145, 13146, 13147, 13148, 13152, 13153, 13154, 13155, 13156, 13157, 13158, 13159, 13160, 13162, 13163, 13164, 13165, 13166, 13167, 13201, 13202, 13203, 13204, 13205, 13206, 13207, 13208, 13209, 13210, 13211, 13212, 13214, 13215, 13217, 13218, 13219, 13220, 13221, 13224, 13225, 13235, 13244, 13250, 13251, 13252, 13261, 13290, 13301, 13302, 13303, 13304, 13305, 13308, 13309, 13310, 13312, 13313, 13314, 13315, 13316, 13317, 13318, 13319, 13320, 13321, 13322, 13323, 13324, 13325, 13326, 13327, 13328, 13329, 13331, 13332, 13333, 13334, 13335, 13337, 13338, 13339, 13340, 13341, 13342, 13343, 13345, 13346, 13348, 13350, 13352, 13353, 13354, 13355, 13357, 13360, 13361, 13362, 13363, 13364, 13365, 13367, 13368, 13401, 13402, 13403, 13404, 13406, 13407, 13408, 13409, 13410, 13411, 13413, 13415, 13416, 13417, 13418, 13420, 13421, 13424, 13425, 13426, 13428, 13431, 13433, 13435, 13436, 13437, 13438, 13439, 13440, 13441, 13442, 13449, 13450, 13452, 13454, 13455, 13456, 13457, 13459, 13460, 13461, 13464, 13465, 13468, 13469, 13470, 13471, 13472, 13473, 13475, 13476, 13477, 13478, 13479, 13480, 13482, 13483, 13484, 13485, 13486, 13488, 13489, 13490, 13491, 13492, 13493, 13494, 13495, 13501, 13502, 13503, 13504, 13505, 13599, 13601, 13602, 13603, 13605, 13606, 13607, 13608, 13611, 13612, 13613, 13614, 13615, 13616, 13617, 13618, 13619, 13620, 13621, 13622, 13623, 13624, 13625, 13626, 13627, 13628, 13630, 13631, 13632, 13633, 13634, 13635, 13636, 13637, 13638, 13639, 13640, 13641, 13642, 13643, 13645, 13646, 13647, 13648, 13649, 13650, 13651, 13652, 13654, 13655, 13656, 13657, 13658, 13659, 13660, 13661, 13662, 13664, 13665, 13666, 13667, 13668, 13669, 13670, 13671, 13672, 13673, 13674, 13675, 13676, 13677, 13678, 13679, 13680, 13681, 13682, 13683, 13684, 13685, 13687, 13690, 13691, 13692, 13693, 13694, 13695, 13696, 13697, 13699, 13730, 13731, 13732, 13733, 13734, 13736, 13737, 13738, 13739, 13740, 13743, 13744, 13745, 13746, 13747, 13748, 13749, 13750, 13751, 13752, 13753, 13754, 13755, 13756, 13757, 13758, 13760, 13761, 13762, 13763, 13774, 13775, 13776, 13777, 13778, 13780, 13782, 13783, 13784, 13786, 13787, 13788, 13790, 13794, 13795, 13796, 13797, 13801, 13802, 13803, 13804, 13806, 13807, 13808, 13809, 13810, 13811, 13812, 13813, 13814, 13815, 13820, 13825, 13826, 13827, 13830, 13832, 13833, 13834, 13835, 13838, 13839, 13840, 13841, 13842, 13843, 13844, 13845, 13846, 13847, 13848, 13849, 13850, 13851, 13856, 13859, 13860, 13861, 13862, 13863, 13864, 13865, 13901, 13902, 13903, 13904, 13905, 14001, 14004, 14005, 14006, 14008, 14009, 14010, 14011, 14012, 14013, 14020, 14021, 14024, 14025, 14026, 14027, 14028, 14029, 14030, 14031, 14032, 14033, 14034, 14035, 14036, 14037, 14038, 14039, 14040, 14041, 14042, 14043, 14047, 14048, 14051, 14052, 14054, 14055, 14056, 14057, 14058, 14059, 14060, 14061, 14062, 14063, 14065, 14066, 14067, 14068, 14069, 14070, 14072, 14075, 14080, 14081, 14082, 14083, 14085, 14086, 14091, 14092, 14094, 14095, 14098, 14101, 14102, 14103, 14105, 14107, 14108, 14109, 14110, 14111, 14112, 14113, 14120, 14125, 14126, 14127, 14129, 14130, 14131, 14132, 14133, 14134, 14135, 14136, 14138, 14139, 14140, 14141, 14143, 14144, 14145, 14150, 14151, 14166, 14167, 14168, 14169, 14170, 14171, 14172, 14173, 14174, 14201, 14202, 14203, 14204, 14205, 14206, 14207, 14208, 14209, 14210, 14211, 14212, 14213, 14214, 14215, 14216, 14217, 14218, 14219, 14220, 14221, 14222, 14223, 14224, 14225, 14226, 14227, 14228, 14231, 14233, 14240, 14241, 14260, 14261, 14263, 14264, 14265, 14267, 14269, 14270, 14272, 14273, 14276, 14280, 14301, 14302, 14303, 14304, 14305, 14410, 14411, 14413, 14414, 14415, 14416, 14418, 14420, 14422, 14423, 14424, 14425, 14427, 14428, 14429, 14430, 14432, 14433, 14435, 14437, 14441, 14443, 14445, 14449, 14450, 14452, 14453, 14454, 14456, 14461, 14462, 14463, 14464, 14466, 14467, 14468, 14469, 14470, 14471, 14472, 14475, 14476, 14477, 14478, 14479, 14480, 14481, 14482, 14485, 14486, 14487, 14488, 14489, 14502, 14504, 14505, 14506, 14507, 14508, 14510, 14511, 14512, 14513, 14514, 14515, 14516, 14517, 14518, 14519, 14520, 14521, 14522, 14525, 14526, 14527, 14529, 14530, 14532, 14533, 14534, 14536, 14537, 14538, 14539, 14541, 14542, 14543, 14544, 14545, 14546, 14547, 14548, 14549, 14550, 14551, 14555, 14556, 14557, 14558, 14559, 14560, 14561, 14563, 14564, 14568, 14569, 14571, 14572, 14580, 14585, 14586, 14588, 14589, 14590, 14591, 14592, 14602, 14603, 14604, 14605, 14606, 14607, 14608, 14609, 14610, 14611, 14612, 14613, 14614, 14615, 14616, 14617, 14618, 14619, 14620, 14621, 14622, 14623, 14624, 14625, 14626, 14627, 14638, 14639, 14642, 14643, 14644, 14646, 14647, 14649, 14650, 14651, 14652, 14653, 14692, 14694, 14701, 14702, 14706, 14707, 14708, 14709, 14710, 14711, 14712, 14714, 14715, 14716, 14717, 14718, 14719, 14720, 14721, 14722, 14723, 14724, 14726, 14727, 14728, 14729, 14730, 14731, 14732, 14733, 14735, 14736, 14737, 14738, 14739, 14740, 14741, 14742, 14743, 14744, 14745, 14747, 14748, 14750, 14751, 14752, 14753, 14754, 14755, 14756, 14757, 14758, 14760, 14766, 14767, 14769, 14770, 14772, 14774, 14775, 14777, 14778, 14779, 14781, 14782, 14783, 14784, 14785, 14786, 14787, 14788, 14801, 14802, 14803, 14804, 14805, 14806, 14807, 14808, 14809, 14810, 14812, 14813, 14814, 14815, 14816, 14817, 14818, 14819, 14820, 14821, 14822, 14823, 14824, 14825, 14826, 14827, 14830, 14831, 14836, 14837, 14838, 14839, 14840, 14841, 14842, 14843, 14845, 14846, 14847, 14850, 14851, 14852, 14853, 14854, 14855, 14856, 14857, 14858, 14859, 14860, 14861, 14863, 14864, 14865, 14867, 14869, 14870, 14871, 14872, 14873, 14874, 14876, 14877, 14878, 14879, 14880, 14881, 14882, 14883, 14884, 14885, 14886, 14887, 14889, 14891, 14892, 14893, 14894, 14895, 14897, 14898, 14901, 14902, 14903, 14904, 14905
Chicago, IL Includes The Following Zip Codes:
60601, 60602, 60603, 60604, 60605, 60606, 60607, 60608, 60609, 60610, 60611, 60612, 60613, 60614, 60615, 60616, 60617, 60618, 60619, 60620, 60621, 60622, 60623, 60624, 60625, 60626, 60628, 60629, 60630, 60631, 60632, 60633, 60634, 60636, 60637, 60638, 60639, 60640, 60641, 60642, 60643, 60644, 60645, 60646, 60647, 60649, 60651, 60652, 60653, 60654, 60655, 60656, 60657, 60659, 60660, 60661, 60664, 60666, 60668, 60669, 60670, 60673, 60674, 60675, 60677, 60678, 60680, 60681, 60682, 60684, 60685, 60686, 60687, 60688, 60689, 60690, 60691, 60693, 60694, 60695, 60696, 60697, 60699, 60701, 60706, 60707, 60803, 60804, 60805, 60827