97%
of customers
recommend us
Moving to California from Connecticut
Published on 2021-06-28
Movers CT to CA
Are thinking about moving to California from Connecticut? Perhaps you've just changed jobs, thus need to move from Harford to San Francisco. Or, maybe you're retiring and would like to spend your twilight years enjoying the sunny weather on the west coast city.
Whichever the reason, rest assured that you'll love California. Also known as the Gold State, California experiences sunshine pretty much year round. Even winters are shiny in the Gold State!
Moreover, California is the land of beauty. The majestic landscapes, flora and fauna make it the perfect place if you're an outdoor lover not to forget Rhode Island. Additionally, the diverse culture means you can look forward to a variety of foods and nice people throughout.
If you're looking for a reputable and reliable moving company that offers a range of services, including local moves, long distance moves, and storage, then you should consider Three Movers.  We're a top rated cross country moving company with years of experience in the moving industry. Whether you are looking for some basic self-help moving tips or more advanced assistance, we offer reliable service. 
Our moving team can help you move your entire house or just your personal belongings and other valuable belongings, and we offer free quotes including your car shipping quotes so you can choose the services that best fit your needs. We understand that moving can be a stressful process, so we work hard to provide top-notch moving process every step of the way. Contact us today to get started!
Where to Live in California
We'll give you a few moving tips shortly on moving service. However, before we get there, let's mention a few things about the best places to live in California.
Fremont: If you haven't picked a place yet, Fremont should be at the top of your list. It's one of the most popular places in the San Francisco Bay Area and was named the happiest place to live in the US in 2020.
Irvine: Another excellent place to live in California is Orange County, specifically the city of Irvine. The family-friendly atmosphere, safe environment, and beautiful weather make it an excellent desired location.
Los Angeles: Of course, we weren't going to leave out the Los Angeles. A city of dreamers, the sprawling California metropolis has something for everyone. Whether you're looking for entertainment, a diverse culture, or a stable housing market, you'll love LA.
Tips to Find the Right Moving Company
Unfortunately, the journey from Connecticut in the North East to California can be a long and tedious one. So, you'll need to prepare adequately and early for your moving services. Once you've identified a place to live and found a house, consider the following tips to find the right Connecticut coast to coast moving company.
Get recommendations
Do you have a friend or family who moved to California recently? Or a friend from Facebook or Instagram? If so, maybe they can recommend a reputable company? Alternatively, check online. Specifically, check Google and moving forums.
Do your research
Step one will usually leave you with dozens on options. Make sure to screen each candidate to ensure that they're a genuine organization. Are they even registered by the Department of Transportation? Any interstate mover should be.
Make sure they're licensed
Aside from registering as a mover, the best California moving companies take a further step to get licensed. A moving license is vital as it's the first proof that the moving company complies with moving laws and regulations.
Choose an insured mover
The movers are always insured. This applies to both local and long-distance movers or cross country move. Insurance allows California movers to cover the costs if a customer's items are damaged while moving cross country. You need the insurance even more if you intend to use the mover's car shipping service.
How Much Does it Cost to Move from Connecticut to California
The cost of moving from Connecticut to California ranges from as little as $3,000 to as much as $10,000+. It depends on a lot of factors, such as the exact locations, the specific items you're moving, and whether you're using a full service moving company or renting a shipping container.
Regardless, keep in mind that a cheap mover doesn't always equate to a great mover. If the deal sounds too good, it could be a scam!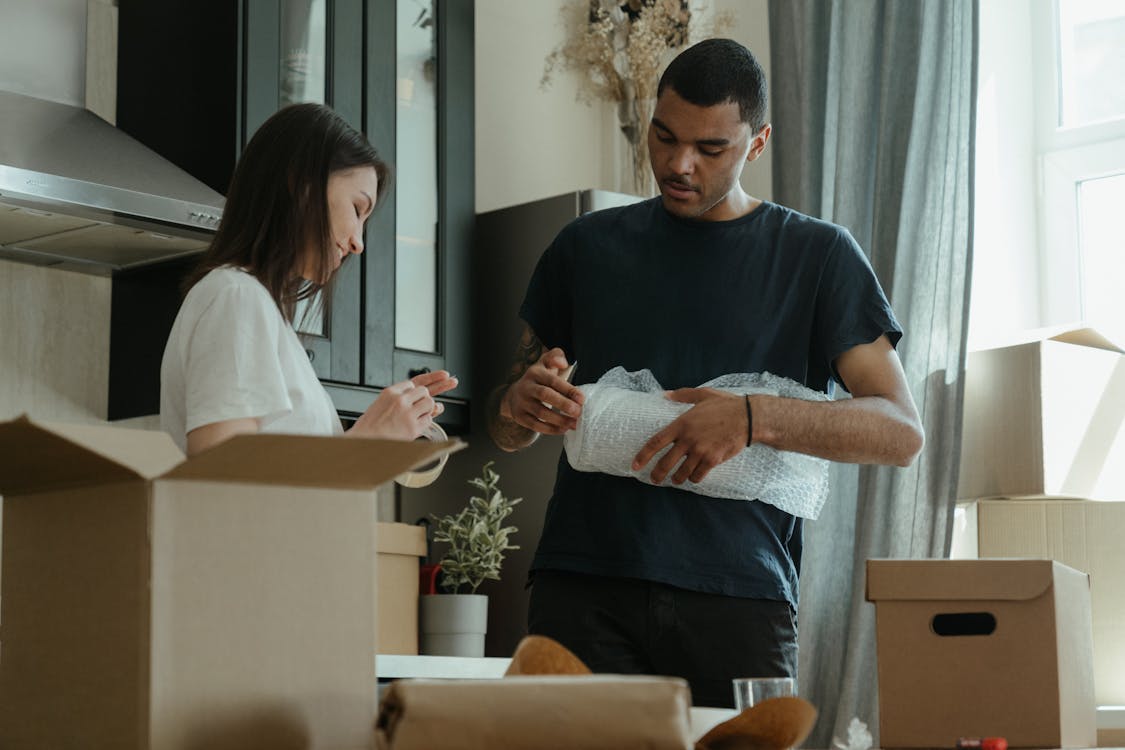 Moves From California to Connecticut: Our Top Routes
We operate from many different cities in California. And, these are some of the common cities that people move to in Connecticut.
California to Bridgeport
Los Angeles to Bridgeport 
Anaheim to Bridgeport 
Fresno  to Bridgeport
Stockton to Bridgeport 
Irvine to Bridgeport
Bakersfield to Bridgeport 
Fremont to Bridgeport 
Oakland to Bridgeport 
Richmond to Bridgeport 
Sunnyvale to Bridgeport
Modesto to Bridgeport
Sacramento to Bridgeport 
Santa Clara to Bridgeport 
Huntington Beach to Bridgeport
Santa Ana to Bridgeport
San Francisco to Bridgeport
San Jose to Bridgeport
San Diego to Bridgeport
Thousand Oaks to Bridgeport
Chula Vista to Bridgeport
San Marcos to Bridgeport
Santa Clarita to Bridgeport
Long Beach to Bridgeport
California to New Haven
Los Angeles to New Haven 
Anaheim to New Haven 
Fresno  to New Haven
Stockton to New Haven 
Irvine to New Haven
Bakersfield to New Haven 
Fremont to New Haven 
Oakland to New Haven 
Richmond to New Haven 
Sunnyvale to New Haven
Modesto to New Haven
Sacramento to New Haven 
Santa Clara to New Haven 
Huntington Beach to New Haven
Santa Ana to New Haven
San Francisco to New Haven
San Jose to New Haven
San Diego to New Haven
Thousand Oaks to New Haven
Chula Vista to New Haven
San Marcos to New Haven
Santa Clarita to New Haven
Long Beach to New Haven
California to Stamford
Los Angeles to Stamford 
Anaheim to Stamford 
Fresno  to Stamford
Stockton to Stamford 
Irvine to Stamford
Bakersfield to Stamford 
Fremont to Stamford 
Oakland to Stamford 
Richmond to Stamford 
Sunnyvale to Stamford
Modesto to Stamford
Sacramento to Stamford 
Santa Clara to Stamford 
Huntington Beach to Stamford
Santa Ana to Stamford
San Francisco to Stamford
San Jose to Stamford
San Diego to Stamford
Thousand Oaks to Stamford
Chula Vista to Stamford
San Marcos to Stamford
Santa Clarita to Stamford
Long Beach to Stamford
California to Hartford
Los Angeles to Hartford 
Anaheim to Hartford 
Fresno  to Hartford
Stockton to Hartford 
Irvine to Hartford
Bakersfield to Hartford 
Fremont to Hartford 
Oakland to Hartford 
Richmond to Hartford 
Sunnyvale to Hartford
Modesto to Hartford
Sacramento to Hartford 
Santa Clara to Hartford 
Huntington Beach to Hartford
Santa Ana to Hartford
San Francisco to Hartford
San Jose to Hartford
San Diego to Hartford
Thousand Oaks to Hartford
Chula Vista to Hartford
San Marcos to Hartford
Santa Clarita to Hartford
Long Beach to Hartford
California to Waterbury
Los Angeles to Waterbury 
Anaheim to Waterbury 
Fresno  to Waterbury
Stockton to Waterbury 
Irvine to Waterbury
Bakersfield to Waterbury 
Fremont to Waterbury 
Oakland to Waterbury 
Richmond to Waterbury 
Sunnyvale to Waterbury
Modesto to Waterbury
Sacramento to Waterbury 
Santa Clara to Waterbury 
Huntington Beach to Waterbury
Santa Ana to Waterbury
San Francisco to Waterbury
San Jose to Waterbury
San Diego to Waterbury
Thousand Oaks to Waterbury
Chula Vista to Waterbury
San Marcos to Waterbury
Santa Clarita to Waterbury
Long Beach to Waterbury
California to Norwalk
Los Angeles to Norwalk 
Anaheim to Norwalk 
Fresno  to Norwalk
Stockton to Norwalk 
Irvine to Norwalk
Bakersfield to Norwalk 
Fremont to Norwalk 
Oakland to Norwalk 
Richmond to Norwalk 
Sunnyvale to Norwalk
Modesto to Norwalk
Sacramento to Norwalk 
Santa Clara to Norwalk 
Huntington Beach to Norwalk
Santa Ana to Norwalk
San Francisco to Norwalk
San Jose to Norwalk
San Diego to Norwalk
Thousand Oaks to Norwalk
Chula Vista to Norwalk
San Marcos to Norwalk
Santa Clarita to Norwalk
Long Beach to Norwalk
California includes the following zip codes:
90001, 90002, 90003, 90004, 90005, 90006, 90007, 90008, 90009, 90010, 90011, 90012, 90013, 90014, 90015, 90016, 90017, 90018, 90019, 90020, 90021, 90022, 90023, 90024, 90025, 90026, 90027, 90028, 90029, 90030, 90031, 90032, 90033, 90034, 90035, 90036, 90037, 90038, 90039, 90040, 90041, 90042, 90043, 90044, 90045, 90046, 90047, 90048, 90049, 90050, 90051, 90052, 90053, 90054, 90055, 90056, 90057, 90058, 90059, 90060, 90061, 90062, 90063, 90064, 90065, 90066, 90067, 90068, 90069, 90070, 90071, 90072, 90073, 90074, 90075, 90076, 90077, 90078, 90079, 90080, 90081, 90082, 90083, 90084, 90086, 90087, 90088, 90089, 90091, 90093, 90094, 90095, 90096, 90099, 90134, 90189, 90201, 90202, 90209, 90210, 90211, 90212, 90213, 90220, 90221, 90222, 90223, 90224, 90230, 90231, 90232, 90239, 90240, 90241, 90242, 90245, 90247, 90248, 90249, 90250, 90251, 90254, 90255, 90260, 90261, 90262, 90263, 90264, 90265, 90266, 90267, 90270, 90272, 90274, 90275, 90277, 90278, 90280, 90290, 90291, 90292, 90293, 90294, 90295, 90296, 90301, 90302, 90303, 90304, 90305, 90306, 90307, 90308, 90309, 90310, 90311, 90312, 90401, 90402, 90403, 90404, 90405, 90406, 90407, 90408, 90409, 90410, 90411, 90501, 90502, 90503, 90504, 90505, 90506, 90507, 90508, 90509, 90510, 90601, 90602, 90603, 90604, 90605, 90606, 90607, 90608, 90609, 90610, 90620, 90621, 90622, 90623, 90624, 90630, 90631, 90632, 90633, 90637, 90638, 90639, 90640, 90650, 90651, 90652, 90660, 90661, 90662, 90670, 90671, 90680, 90701, 90702, 90703, 90704, 90706, 90707, 90710, 90711, 90712, 90713, 90714, 90715, 90716, 90717, 90720, 90721, 90723, 90731, 90732, 90733, 90734, 90740, 90742, 90743, 90744, 90745, 90746, 90747, 90748, 90749, 90755, 90801, 90802, 90803, 90804, 90805, 90806, 90807, 90808, 90809, 90810, 90813, 90814, 90815, 90822, 90831, 90832, 90833, 90840, 90842, 90844, 90846, 90847, 90848, 90853, 90895, 91001, 91003, 91006, 91007, 91008, 91009, 91010, 91011, 91012, 91016, 91017, 91020, 91021, 91023, 91024, 91025, 91030, 91031, 91040, 91041, 91042, 91043, 91046, 91066, 91077, 91101, 91102, 91103, 91104, 91105, 91106, 91107, 91108, 91109, 91110, 91114, 91115, 91116, 91117, 91118, 91121, 91123, 91124, 91125, 91126, 91129, 91182, 91184, 91185, 91188, 91189, 91199, 91201, 91202, 91203, 91204, 91205, 91206, 91207, 91208, 91209, 91210, 91214, 91221, 91222, 91224, 91225, 91226, 91301, 91302, 91303, 91304, 91305, 91306, 91307, 91308, 91309, 91310, 91311, 91313, 91316, 91319, 91320, 91321, 91322, 91324, 91325, 91326, 91327, 91328, 91329, 91330, 91331, 91333, 91334, 91335, 91337, 91340, 91341, 91342, 91343, 91344, 91345, 91346, 91350, 91351, 91352, 91353, 91354, 91355, 91356, 91357, 91358, 91359, 91360, 91361, 91362, 91364, 91365, 91367, 91371, 91372, 91376, 91377, 91380, 91381, 91382, 91383, 91384, 91385, 91386, 91387, 91390, 91392, 91393, 91394, 91395, 91396, 91401, 91402, 91403, 91404, 91405, 91406, 91407, 91408, 91409, 91410, 91411, 91412, 91413, 91416, 91423, 91426, 91436, 91470, 91482, 91495, 91496, 91499, 91501, 91502, 91503, 91504, 91505, 91506, 91507, 91508, 91510, 91521, 91522, 91523, 91526, 91601, 91602, 91603, 91604, 91605, 91606, 91607, 91608, 91609, 91610, 91611, 91612, 91614, 91615, 91616, 91617, 91618, 91701, 91702, 91706, 91708, 91709, 91710, 91711, 91714, 91715, 91716, 91722, 91723, 91724, 91729, 91730, 91731, 91732, 91733, 91734, 91735, 91737, 91739, 91740, 91741, 91743, 91744, 91745, 91746, 91747, 91748, 91749, 91750, 91752, 91754, 91755, 91756, 91758, 91759, 91761, 91762, 91763, 91764, 91765, 91766, 91767, 91768, 91769, 91770, 91771, 91772, 91773, 91775, 91776, 91778, 91780, 91784, 91785, 91786, 91788, 91789, 91790, 91791, 91792, 91793, 91801, 91802, 91803, 91804, 91896, 91899, 91901, 91902, 91903, 91905, 91906, 91908, 91909, 91910, 91911, 91912, 91913, 91914, 91915, 91916, 91917, 91921, 91931, 91932, 91933, 91934, 91935, 91941, 91942, 91943, 91944, 91945, 91946, 91948, 91950, 91951, 91962, 91963, 91976, 91977, 91978, 91979, 91980, 91987, 92003, 92004, 92007, 92008, 92009, 92010, 92011, 92013, 92014, 92018, 92019, 92020, 92021, 92022, 92023, 92024, 92025, 92026, 92027, 92028, 92029, 92030, 92033, 92036, 92037, 92038, 92039, 92040, 92046, 92049, 92051, 92052, 92054, 92055, 92056, 92057, 92058, 92059, 92060, 92061, 92064, 92065, 92066, 92067, 92068, 92069, 92070, 92071, 92072, 92074, 92075, 92078, 92079, 92081, 92082, 92083, 92084, 92085, 92086, 92088, 92091, 92092, 92093, 92096, 92101, 92102, 92103, 92104, 92105, 92106, 92107, 92108, 92109, 92110, 92111, 92112, 92113, 92114, 92115, 92116, 92117, 92118, 92119, 92120, 92121, 92122, 92123, 92124, 92126, 92127, 92128, 92129, 92130, 92131, 92132, 92134, 92135, 92136, 92137, 92138, 92139, 92140, 92142, 92143, 92145, 92147, 92149, 92150, 92152, 92153, 92154, 92155, 92158, 92159, 92160, 92161, 92163, 92165, 92166, 92167, 92168, 92169, 92170, 92171, 92172, 92173, 92174, 92175, 92176, 92177, 92178, 92179, 92182, 92186, 92187, 92191, 92192, 92193, 92195, 92196, 92197, 92198, 92199, 92201, 92202, 92203, 92210, 92211, 92220, 92222, 92223, 92225, 92226, 92227, 92230, 92231, 92232, 92233, 92234, 92235, 92236, 92239, 92240, 92241, 92242, 92243, 92244, 92247, 92248, 92249, 92250, 92251, 92252, 92253, 92254, 92255, 92256, 92257, 92258, 92259, 92260, 92261, 92262, 92263, 92264, 92266, 92267, 92268, 92270, 92273, 92274, 92275, 92276, 92277, 92278, 92280, 92281, 92282, 92283, 92284, 92285, 92286, 92301, 92304, 92305, 92307, 92308, 92309, 92310, 92311, 92312, 92313, 92314, 92315, 92316, 92317, 92318, 92320, 92321, 92322, 92323, 92324, 92325, 92327, 92328, 92329, 92331, 92332, 92333, 92334, 92335, 92336, 92337, 92338, 92339, 92340, 92341, 92342, 92344, 92345, 92346, 92347, 92350, 92352, 92354, 92356, 92357, 92358, 92359, 92363, 92364, 92365, 92366, 92368, 92369, 92371, 92372, 92373, 92374, 92375, 92376, 92377, 92378, 92382, 92384, 92385, 92386, 92389, 92391, 92392, 92393, 92394, 92395, 92397, 92398, 92399, 92401, 92402, 92403, 92404, 92405, 92406, 92407, 92408, 92410, 92411, 92413, 92415, 92418, 92423, 92427, 92501, 92502, 92503, 92504, 92505, 92506, 92507, 92508, 92509, 92513, 92514, 92516, 92517, 92518, 92519, 92521, 92522, 92530, 92531, 92532, 92536, 92539, 92543, 92544, 92545, 92546, 92548, 92549, 92551, 92552, 92553, 92554, 92555, 92556, 92557, 92561, 92562, 92563, 92564, 92567, 92570, 92571, 92572, 92581, 92582, 92583, 92584, 92585, 92586, 92587, 92589, 92590, 92591, 92592, 92593, 92595, 92596, 92599, 92602, 92603, 92604, 92605, 92606, 92607, 92609, 92610, 92612, 92614, 92615, 92616, 92617, 92618, 92619, 92620, 92623, 92624, 92625, 92626, 92627, 92628, 92629, 92630, 92637, 92646, 92647, 92648, 92649, 92650, 92651, 92652, 92653, 92654, 92655, 92656, 92657, 92658, 92659, 92660, 92661, 92662, 92663, 92672, 92673, 92674, 92675, 92676, 92677, 92678, 92679, 92683, 92684, 92685, 92688, 92690, 92691, 92692, 92693, 92694, 92697, 92698, 92701, 92702, 92703, 92704, 92705, 92706, 92707, 92708, 92711, 92712, 92728, 92735, 92780, 92781, 92782, 92799, 92801, 92802, 92803, 92804, 92805, 92806, 92807, 92808, 92809, 92811, 92812, 92814, 92815, 92816, 92817, 92821, 92822, 92823, 92825, 92831, 92832, 92833, 92834, 92835, 92836, 92837, 92838, 92840, 92841, 92842, 92843, 92844, 92845, 92846, 92850, 92856, 92857, 92859, 92860, 92861, 92862, 92863, 92864, 92865, 92866, 92867, 92868, 92869, 92870, 92871, 92877, 92878, 92879, 92880, 92881, 92882, 92883, 92885, 92886, 92887, 92899, 93001, 93002, 93003, 93004, 93005, 93006, 93007, 93009, 93010, 93011, 93012, 93013, 93014, 93015, 93016, 93020, 93021, 93022, 93023, 93024, 93030, 93031, 93032, 93033, 93034, 93035, 93036, 93040, 93041, 93042, 93043, 93044, 93060, 93061, 93062, 93063, 93064, 93065, 93066, 93067, 93094, 93099, 93101, 93102, 93103, 93105, 93106, 93107, 93108, 93109, 93110, 93111, 93116, 93117, 93118, 93120, 93121, 93130, 93140, 93150, 93160, 93190, 93199, 93201, 93202, 93203, 93204, 93205, 93206, 93207, 93208, 93210, 93212, 93215, 93216, 93218, 93219, 93220, 93221, 93222, 93223, 93224, 93225, 93226, 93227, 93230, 93232, 93234, 93235, 93237, 93238, 93239, 93240, 93241, 93242, 93243, 93244, 93245, 93246, 93247, 93249, 93250, 93251, 93252, 93254, 93255, 93256, 93257, 93258, 93260, 93261, 93262, 93263, 93265, 93266, 93267, 93268, 93270, 93271, 93272, 93274, 93275, 93276, 93277, 93278, 93279, 93280, 93282, 93283, 93285, 93286, 93287, 93290, 93291, 93292, 93301, 93302, 93303, 93304, 93305, 93306, 93307, 93308, 93309, 93311, 93312, 93313, 93314, 93380, 93383, 93384, 93385, 93386, 93387, 93388, 93389, 93390, 93401, 93402, 93403, 93405, 93406, 93407, 93408, 93409, 93410, 93412, 93420, 93421, 93422, 93423, 93424, 93426, 93427, 93428, 93429, 93430, 93432, 93433, 93434, 93435, 93436, 93437, 93438, 93440, 93441, 93442, 93443, 93444, 93445, 93446, 93447, 93448, 93449, 93450, 93451, 93452, 93453, 93454, 93455, 93456, 93457, 93458, 93460, 93461, 93463, 93464, 93465, 93475, 93483, 93501, 93502, 93504, 93505, 93510, 93512, 93513, 93514, 93515, 93516, 93517, 93518, 93519, 93522, 93523, 93524, 93526, 93527, 93528, 93529, 93530, 93531, 93532, 93534, 93535, 93536, 93539, 93541, 93542, 93543, 93544, 93545, 93546, 93549, 93550, 93551, 93552, 93553, 93554, 93555, 93556, 93558, 93560, 93561, 93562, 93563, 93581, 93584, 93586, 93590, 93591, 93592, 93596, 93599, 93601, 93602, 93603, 93604, 93605, 93606, 93607, 93608, 93609, 93610, 93611, 93612, 93613, 93614, 93615, 93616, 93618, 93619, 93620, 93621, 93622, 93623, 93624, 93625, 93626, 93627, 93628, 93630, 93631, 93633, 93634, 93635, 93636, 93637, 93638, 93639, 93640, 93641, 93642, 93643, 93644, 93645, 93646, 93647, 93648, 93649, 93650, 93651, 93652, 93653, 93654, 93656, 93657, 93660, 93661, 93662, 93664, 93665, 93666, 93667, 93668, 93669, 93670, 93673, 93675, 93701, 93702, 93703, 93704, 93705, 93706, 93707, 93708, 93709, 93710, 93711, 93712, 93714, 93715, 93716, 93717, 93718, 93720, 93721, 93722, 93723, 93724, 93725, 93726, 93727, 93728, 93729, 93730, 93737, 93740, 93741, 93744, 93745, 93747, 93750, 93755, 93760, 93761, 93764, 93765, 93771, 93772, 93773, 93774, 93775, 93776, 93777, 93778, 93779, 93786, 93790, 93791, 93792, 93793, 93794, 93844, 93888, 93901, 93902, 93905, 93906, 93907, 93908, 93912, 93915, 93920, 93921, 93922, 93923, 93924, 93925, 93926, 93927, 93928, 93930, 93932, 93933, 93940, 93942, 93943, 93944, 93950, 93953, 93954, 93955, 93960, 93962, 94002, 94005, 94010, 94011, 94014, 94015, 94016, 94017, 94018, 94019, 94020, 94021, 94022, 94023, 94024, 94025, 94026, 94027, 94028, 94030, 94035, 94037, 94038, 94039, 94040, 94041, 94042, 94043, 94044, 94060, 94061, 94062, 94063, 94064, 94065, 94066, 94070, 94074, 94080, 94083, 94085, 94086, 94087, 94088, 94089, 94102, 94103, 94104, 94105, 94107, 94108, 94109, 94110, 94111, 94112, 94114, 94115, 94116, 94117, 94118, 94119, 94120, 94121, 94122, 94123, 94124, 94125, 94126, 94127, 94128, 94129, 94130, 94131, 94132, 94133, 94134, 94137, 94139, 94140, 94141, 94142, 94143, 94144, 94145, 94146, 94147, 94151, 94158, 94159, 94160, 94161, 94163, 94164, 94172, 94177, 94188, 94203, 94204, 94205, 94206, 94207, 94208, 94209, 94211, 94229, 94230, 94232, 94234, 94235, 94236, 94237, 94239, 94240, 94244, 94245, 94247, 94248, 94249, 94250, 94252, 94254, 94256, 94257, 94258, 94259, 94261, 94262, 94263, 94267, 94268, 94269, 94271, 94273, 94274, 94277, 94278, 94279, 94280, 94282, 94283, 94284, 94285, 94287, 94288, 94289, 94290, 94291, 94293, 94294, 94295, 94296, 94297, 94298, 94299, 94301, 94302, 94303, 94304, 94305, 94306, 94309, 94401, 94402, 94403, 94404, 94497, 94501, 94502, 94503, 94505, 94506, 94507, 94508, 94509, 94510, 94511, 94512, 94513, 94514, 94515, 94516, 94517, 94518, 94519, 94520, 94521, 94522, 94523, 94524, 94525, 94526, 94527, 94528, 94529, 94530, 94531, 94533, 94534, 94535, 94536, 94537, 94538, 94539, 94540, 94541, 94542, 94543, 94544, 94545, 94546, 94547, 94548, 94549, 94550, 94551, 94552, 94553, 94555, 94556, 94557, 94558, 94559, 94560, 94561, 94562, 94563, 94564, 94565, 94566, 94567, 94568, 94569, 94570, 94571, 94572, 94573, 94574, 94575, 94576, 94577, 94578, 94579, 94580, 94581, 94582, 94583, 94585, 94586, 94587, 94588, 94589, 94590, 94591, 94592, 94595, 94596, 94597, 94598, 94599, 94601, 94602, 94603, 94604, 94605, 94606, 94607, 94608, 94609, 94610, 94611, 94612, 94613, 94614, 94615, 94617, 94618, 94619, 94620, 94621, 94622, 94623, 94624, 94649, 94659, 94660, 94661, 94662, 94666, 94701, 94702, 94703, 94704, 94705, 94706, 94707, 94708, 94709, 94710, 94712, 94720, 94801, 94802, 94803, 94804, 94805, 94806, 94807, 94808, 94820, 94850, 94901, 94903, 94904, 94912, 94913, 94914, 94915, 94920, 94922, 94923, 94924, 94925, 94926, 94927, 94928, 94929, 94930, 94931, 94933, 94937, 94938, 94939, 94940, 94941, 94942, 94945, 94946, 94947, 94948, 94949, 94950, 94951, 94952, 94953, 94954, 94955, 94956, 94957, 94960, 94963, 94964, 94965, 94966, 94970, 94971, 94972, 94973, 94974, 94975, 94976, 94977, 94978, 94979, 94998, 94999, 95001, 95002, 95003, 95004, 95005, 95006, 95007, 95008, 95009, 95010, 95011, 95012, 95013, 95014, 95015, 95017, 95018, 95019, 95020, 95021, 95023, 95024, 95026, 95030, 95031, 95032, 95033, 95035, 95036, 95037, 95038, 95039, 95041, 95042, 95043, 95044, 95045, 95046, 95050, 95051, 95052, 95053, 95054, 95055, 95056, 95060, 95061, 95062, 95063, 95064, 95065, 95066, 95067, 95070, 95071, 95073, 95075, 95076, 95077, 95101, 95103, 95106, 95108, 95109, 95110, 95111, 95112, 95113, 95115, 95116, 95117, 95118, 95119, 95120, 95121, 95122, 95123, 95124, 95125, 95126, 95127, 95128, 95129, 95130, 95131, 95132, 95133, 95134, 95135, 95136, 95138, 95139, 95140, 95141, 95148, 95150, 95151, 95152, 95153, 95154, 95155, 95156, 95157, 95158, 95159, 95160, 95161, 95164, 95170, 95172, 95173, 95190, 95191, 95192, 95193, 95194, 95196, 95201, 95202, 95203, 95204, 95205, 95206, 95207, 95208, 95209, 95210, 95211, 95212, 95213, 95214, 95215, 95219, 95220, 95221, 95222, 95223, 95224, 95225, 95226, 95227, 95228, 95229, 95230, 95231, 95232, 95233, 95234, 95236, 95237, 95240, 95241, 95242, 95245, 95246, 95247, 95248, 95249, 95251, 95252, 95253, 95254, 95255, 95257, 95258, 95267, 95269, 95296, 95297, 95301, 95303, 95304, 95305, 95306, 95307, 95309, 95310, 95311, 95312, 95313, 95315, 95316, 95317, 95318, 95319, 95320, 95321, 95322, 95323, 95324, 95325, 95326, 95327, 95328, 95329, 95330, 95333, 95334, 95335, 95336, 95337, 95338, 95340, 95341, 95343, 95344, 95345, 95346, 95347, 95348, 95350, 95351, 95352, 95353, 95354, 95355, 95356, 95357, 95358, 95360, 95361, 95363, 95364, 95365, 95366, 95367, 95368, 95369, 95370, 95372, 95373, 95374, 95375, 95376, 95377, 95378, 95379, 95380, 95381, 95382, 95383, 95385, 95386, 95387, 95388, 95389, 95391, 95397, 95401, 95402, 95403, 95404, 95405, 95406, 95407, 95409, 95410, 95412, 95415, 95416, 95417, 95418, 95419, 95420, 95421, 95422, 95423, 95424, 95425, 95426, 95427, 95428, 95429, 95430, 95431, 95432, 95433, 95435, 95436, 95437, 95439, 95441, 95442, 95443, 95444, 95445, 95446, 95448, 95449, 95450, 95451, 95452, 95453, 95454, 95456, 95457, 95458, 95459, 95460, 95461, 95462, 95463, 95464, 95465, 95466, 95467, 95468, 95469, 95470, 95471, 95472, 95473, 95476, 95480, 95481, 95482, 95485, 95486, 95487, 95488, 95490, 95492, 95493, 95494, 95497, 95501, 95502, 95503, 95511, 95514, 95518, 95519, 95521, 95524, 95525, 95526, 95527, 95528, 95531, 95532, 95534, 95536, 95537, 95538, 95540, 95542, 95543, 95545, 95546, 95547, 95548, 95549, 95550, 95551, 95552, 95553, 95554, 95555, 95556, 95558, 95559, 95560, 95562, 95563, 95564, 95565, 95567, 95568, 95569, 95570, 95571, 95573, 95585, 95587, 95589, 95595, 95601, 95602, 95603, 95604, 95605, 95606, 95607, 95608, 95609, 95610, 95611, 95612, 95613, 95614, 95615, 95616, 95617, 95618, 95619, 95620, 95621, 95623, 95624, 95625, 95626, 95627, 95628, 95629, 95630, 95631, 95632, 95633, 95634, 95635, 95636, 95637, 95638, 95639, 95640, 95641, 95642, 95644, 95645, 95646, 95648, 95650, 95651, 95652, 95653, 95654, 95655, 95656, 95658, 95659, 95660, 95661, 95662, 95663, 95664, 95665, 95666, 95667, 95668, 95669, 95670, 95671, 95672, 95673, 95674, 95675, 95676, 95677, 95678, 95679, 95680, 95681, 95682, 95683, 95684, 95685, 95686, 95687, 95688, 95689, 95690, 95691, 95692, 95693, 95694, 95695, 95696, 95697, 95698, 95699, 95701, 95703, 95709, 95712, 95713, 95714, 95715, 95717, 95720, 95721, 95722, 95724, 95726, 95728, 95735, 95736, 95741, 95742, 95746, 95747, 95757, 95758, 95759, 95762, 95763, 95765, 95776, 95798, 95799, 95811, 95812, 95813, 95814, 95815, 95816, 95817, 95818, 95819, 95820, 95821, 95822, 95823, 95824, 95825, 95826, 95827, 95828, 95829, 95830, 95831, 95832, 95833, 95834, 95835, 95836, 95837, 95838, 95840, 95841, 95842, 95843, 95851, 95852, 95853, 95860, 95864, 95865, 95866, 95867, 95894, 95899, 95901, 95903, 95910, 95912, 95913, 95914, 95915, 95916, 95917, 95918, 95919, 95920, 95922, 95923, 95924, 95925, 95926, 95927, 95928, 95929, 95930, 95932, 95934, 95935, 95936, 95937, 95938, 95939, 95940, 95941, 95942, 95943, 95944, 95945, 95946, 95947, 95948, 95949, 95950, 95951, 95953, 95954, 95955, 95956, 95957, 95958, 95959, 95960, 95961, 95962, 95963, 95965, 95966, 95967, 95968, 95969, 95970, 95971, 95972, 95973, 95974, 95975, 95976, 95977, 95978, 95979, 95980, 95981, 95982, 95983, 95984, 95986, 95987, 95988, 95991, 95992, 95993, 96001, 96002, 96003, 96006, 96007, 96008, 96009, 96010, 96011, 96013, 96014, 96015, 96016, 96017, 96019, 96020, 96021, 96022, 96023, 96024, 96025, 96027, 96028, 96029, 96031, 96032, 96033, 96034, 96035, 96037, 96038, 96039, 96040, 96041, 96044, 96046, 96047, 96048, 96049, 96050, 96051, 96052, 96054, 96055, 96056, 96057, 96058, 96059, 96061, 96062, 96063, 96064, 96065, 96067, 96068, 96069, 96070, 96071, 96073, 96074, 96075, 96076, 96078, 96079, 96080, 96084, 96085, 96086, 96087, 96088, 96089, 96090, 96091, 96092, 96093, 96094, 96095, 96096, 96097, 96099, 96101, 96103, 96104, 96105, 96106, 96107, 96108, 96109, 96110, 96111, 96112, 96113, 96114, 96115, 96116, 96117, 96118, 96119, 96120, 96121, 96122, 96123, 96124, 96125, 96126, 96127, 96128, 96129, 96130, 96132, 96133, 96134, 96135, 96136, 96137, 96140, 96141, 96142, 96143, 96145, 96146, 96148, 96150, 96151, 96152, 96154, 96155, 96156, 96157, 96158, 96160, 96161, 96162
Connecticut includes the following zip codes:
6001, 06002, 06006, 06010, 06011, 06013, 06016, 06018, 06019, 06020, 06021, 06022, 06023, 06024, 06025, 06026, 06027, 06028, 06029, 06030, 06031, 06032, 06033, 06034, 06035, 06037, 06039, 06040, 06041, 06042, 06043, 06045, 06050, 06051, 06052, 06053, 06057, 06058, 06059, 06060, 06061, 06062, 06063, 06064, 06065, 06066, 06067, 06068, 06069, 06070, 06071, 06072, 06073, 06074, 06075, 06076, 06077, 06078, 06079, 06080, 06081, 06082, 06083, 06084, 06085, 06088, 06089, 06090, 06091, 06092, 06093, 06094, 06095, 06096, 06098, 06101, 06102, 06103, 06104, 06105, 06106, 06107, 06108, 06109, 06110, 06111, 06112, 06114, 06115, 06117, 06118, 06119, 06120, 06123, 06126, 06127, 06128, 06129, 06131, 06132, 06133, 06134, 06137, 06138, 06140, 06141, 06142, 06143, 06144, 06145, 06146, 06147, 06150, 06151, 06152, 06153, 06154, 06155, 06156, 06160, 06161, 06167, 06176, 06180, 06183, 06199, 06226, 06230, 06231, 06232, 06233, 06234, 06235, 06237, 06238, 06239, 06241, 06242, 06243, 06244, 06245, 06246, 06247, 06248, 06249, 06250, 06251, 06254, 06255, 06256, 06258, 06259, 06260, 06262, 06263, 06264, 06265, 06266, 06267, 06268, 06269, 06277, 06278, 06279, 06280, 06281, 06282, 06320, 06330, 06331, 06332, 06333, 06334, 06335, 06336, 06338, 06339, 06340, 06349, 06350, 06351, 06353, 06354, 06355, 06357, 06359, 06360, 06365, 06370, 06371, 06372, 06373, 06374, 06375, 06376, 06377, 06378, 06379, 06380, 06382, 06383, 06384, 06385, 06387, 06388, 06389, 06401, 06403, 06404, 06405, 06408, 06409, 06410, 06411, 06412, 06413, 06414, 06415, 06416, 06417, 06418, 06419, 06420, 06422, 06423, 06424, 06426, 06437, 06438, 06439, 06440, 06441, 06442, 06443, 06444, 06447, 06450, 06451, 06455, 06456, 06457, 06459, 06460, 06461, 06467, 06468, 06469, 06470, 06471, 06472, 06473, 06474, 06475, 06477, 06478, 06479, 06480, 06481, 06482, 06483, 06484, 06487, 06488, 06489, 06491, 06492, 06493, 06494, 06495, 06498, 06501, 06502, 06503, 06504, 06505, 06506, 06507, 06508, 06509, 06510, 06511, 06512, 06513, 06514, 06515, 06516, 06517, 06518, 06519, 06520, 06521, 06524, 06525, 06530, 06531, 06532, 06533, 06534, 06535, 06536, 06537, 06538, 06540, 06601, 06602, 06604, 06605, 06606, 06607, 06608, 06610, 06611, 06612, 06614, 06615, 06673, 06699, 06701, 06702, 06703, 06704, 06705, 06706, 06708, 06710, 06712, 06716, 06720, 06721, 06722, 06723, 06724, 06725, 06726, 06749, 06750, 06751, 06752, 06753, 06754, 06755, 06756, 06757, 06758, 06759, 06762, 06763, 06770, 06776, 06777, 06778, 06779, 06781, 06782, 06783, 06784, 06785, 06786, 06787, 06790, 06791, 06792, 06793, 06794, 06795, 06796, 06798, 06801, 06804, 06807, 06810, 06811, 06812, 06813, 06820, 06824, 06825, 06828, 06829, 06830, 06831, 06836, 06838, 06840, 06850, 06851, 06852, 06853, 06854, 06855, 06856, 06857, 06858, 06860, 06870, 06875, 06876, 06877, 06878, 06879, 06880, 06881, 06883, 06888, 06889, 06890, 06896, 06897, 06901, 06902, 06903, 06904, 06905, 06906, 06907, 06910, 06911, 06912, 06913, 06914, 06926, 06927
You Also Might Be interested In